Reed Burkholder - RV Sales Consultant
Call me at 641-585-3213 or send me an e-mail at reed@lichtsinn.motosnap.com!
Hi! My name is Reed Burkholder and I am a Sales Consultant at Lichtsinn RV, and I love helping guests find the right RV for the RV lifestyle they've always dreamed of! I also enjoy meeting new people from all areas of the country and learning about their interests and hobbies. I was born in Rolla, North Dakota. We moved to Forest City, Iowa when I was 9 years old.  My mother and father retired from Winnebago as they were the General Managers of the Winnebago Itasca Travelers club. I grew up camping, fishing and playing a lot of sports. I graduated from Minnesota State University with a degree in Marketing and have obtained certifications from Winnebago Industries University and Sobel and Associates in Customer Service Training.
Reviews from Reed's Guests
---
---
---
---
---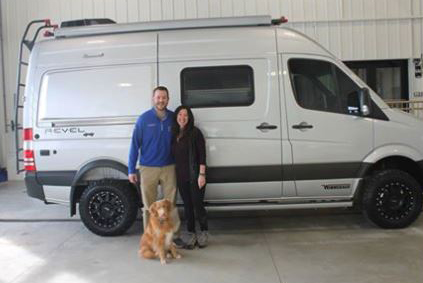 "Genuinely greeted and attended by each department, from Finance to the Owner. Reed spent as much time as I needed answering questions and that I left happy. Experienced pet friendly lounge, loaner vehicle, internet access, and overnight hook-up."
Sue from Traverse City, MI
---
"Great experience at Lichtsinn RV, everyone was helpful, and I was on the road with my new EKKO. Thanks to Reed Burkholder for his sales support."
Dan from Martinsville, IN
---
"After months of going back and forth with local dealers we decided to go with Reed and Lichtsinn Rv in Iowa. Reed and Kevin were so easy to work with. They answered every question and helped us build out our perfect Revel. They made planning to get there easy with a driver to pick us up in Minneapolis. There was a perfect little hotel next door we stayed the night before and they even let us use the car overnight to run around in and eat dinner at a local diner or pick up some supplies so we didn't have to pack as much. Picking up you factory fresh RV at Lichtsinn RV in Forest City Iowa is perfect place to start your first vacation in your new RV. Thanks for our new Revel!"
Steve from San Diego, CA
---
"Customer service is A+! Many generations of employees make it feel like a family owned company. Everyone I met at Lichtsinn RV was courteous and knowledgeable. I even received a call and email from my sales person (Reed) to check my satisfaction, after I returned home. It was worth the 1200 mile one way trip! I love my Winnebago Navion 24V!! What an awesome experience I had. Many thanks and blessings to everyone at Lichtsinn RV!"
Anne from Cary, NC
---
"Had a great experience with the purchase of my 2022 Travato. Reed and Brandon and the rest of the Winnebago team were very patient with answering my many questions and spending time to explain the functions of the RV. I have called the dealership a couple times since my purchase, and they have been extremely helpful with the additional questions I have had regarding the functions of my Travato. Thank you Lichtsinn for the great people you have on your team and your service."
Julie from Papillion, NE
---
"I live in San Diego, CA but flew across the country to buy my Winnebago from Lichtsinn RV. From price, to service, to knowledge of the product, the staff at Lichtsinn RV blew away any other experience I've had with any other dealership. Gary picked us up from the airport and drove us to our hotel and left us with a company car. The next morning, Jeremy gave us a thorough walk-through of the RV, and Brandon helped us with all the paperwork. Reed oversaw the entire purchase back when we ordered all the way to delivery, keeping us updated along the way.

I love the fact that we were the first to use our RV and were able to break in the engine ourselves during our drive home. They had the RV prepped in their garage and I was very impressed with their attention to detail.

No matter where you live in the country, I highly recommend Lichtsinn RV for your next Winnebago."
Craig from San Diego, CA
---
"Our initial desire to work with Lichtsinn RV was because of its proximity to Winnebago and low mileage on the vehicle at pickup coupled with being the first or only ones to use it (toilet and bed). We reached out to Lichtsinn via their chat function on their website and met Jordynn. Jordynn answered all of our questions in a timely manner and was very helpful. We even had a zoom call to review models and features. I can honestly say that the whole process from planning to final pickup was stressless. Jordynn and the Lichtsinn team communicated frequently and were always available by phone to help with any issues or additional questions. They certainly have the process streamlined so that you are in and out as quickly as possible without sacrificing customer satisfaction. At pickup, we noticed some issues with the Winnebago finishes and Lichtsinn was very responsive in making it right! While at Lichtsinn we also met Reed when Jordynn was out. He was very knowledgeable and helpful. Justin in the service dept also made the service process painless. We are first time RV owners and the team never made us feel that our questions were inappropriate. At times having lengthy discussions on fuel types, etc. even now after 6 months using the Revel, we feel we have a support team behind us as we travel. Peace of mind and stress free travels. Thank you Jordynn, Reed, Justin and the Lichtsinn team!"
Claudia and Donald from Wakefield, RI
---
"We searched RV makes and models for 2 years. We finally decided on a Winnebago Travato 59K because of the fit, form, and function. We traveled to various dealers who wouldn't negotiate and couldn't care less if we purchased one or not. When we contacted Reed at Lichtsinn RV he provided us with great customer service and answered all of our numerous questions since we were new to being RV owners. A big shout out to Jeremy who spent an entire morning giving us our hands on orientation and answering all of our questions. Kevin in the finance department was very helpful both on the phone and in person and made the process very seamless. We were very impressed with the Lichtsinn RV dealership and would not hesitate recommending them."
Joshua from Wichita, KS
---
"We would be very happy to recommend Lichtsinn RV as well as our salesman Reed Burkholder. The care and service they gave us was excellent! We are enjoying our Minnie Winnie and certainly made the right choice in our RV as well as the dealership"
Jodie & David from Wilkesboro, NC
---
"Just got back from a long drive back to California from Iowa picked up our new Revel from Lichtsinn RV dealership. The best long drive we have completed and the Revel did what it's supposed to do, home on wheels. Staffs at Lichtsinn RV were all happy to see us and very professional, made the pick up, orientation to the new RV very simple but informative. Paperwork were ready to be sign by us which made all the sales very quick and more time to enjoy the new Revel. Meet Ron the owner, Reed, Jeremy and Brian. The key point here is that all staffs were all ready to help and made this painless. Hi highly recommend Lichtsinn dealership for your next RV purchase, our experience with them is very positive, all smiles specifically when trying to learn and remember all the Revel's functions. Me and my wife purchased the Revel this way because we wanted to travel and make it worth the use of the Revel. Work for us and maybe for you too."
Victor from Murrieta, CA
---
"Can't say enough good things about Lichtsinn RV. First they were able to find us our 2023 Winnebago Revel and in these times of high demand that is saying a lot. The team at Lichtsinn were fantastic, they made our purchase very easy even though we live in Colorado and all the communications till we picked our Revel up were via email and phone. Our Sales rep Reed handled every detail. We were able to pull together everything necessary for our purchase in less than a week and flew to Des Moines where a driver from Lichtsinn picked us up at the airport. The next morning at 8 AM we did a walk through with Jeremy. He went over all the systems and answered every question we had. Ron Lichtsinn the owner even came out to greet us as did others. We meet Justin in parts who helped us with a few accessories. Then it was off to see Kevin in Finance. He had all our paperwork ready for final signatures and we were out of the dealership and on our way home by 11 AM. I highly recommend Lichtsinn RV for you RV needs."
Gary from Grand Junction, CO
---
"What a great experience purchasing our 2011 Winnebago Tour. Reed was great at contacting us and giving us time to make this big decision! Justin was great to answer questions and get us accessories ordered for our new coach. Logan gave us a great orientation. We stayed over night on-sight and Reed again stopped by and asked if we had questions and he answered the ones we had. Lichtsinn is a fully staffed dealer. There are a lot of knowledgeable staff. Lichtsinn is expanding and that is a good sign for the future and I see why they have high ratings. We also toured the Winnebago factory while we were there and highly recommend it."
Tim & Tina from Iowa City, IA
---
"We appreciated how they showed us new and used for us to make our final decisions. Knowledge was great regarding the Aspect we chose. Everyone was friendly and willing to help with everything we needed. Good job Reed! We enjoyed working with you."

Riley & Kris from Forest City, IA
---
"The entire Lichtsinn team was helpful over our 3 day stay. Reed found the Coach we were looking for. The service crew quickly took care of our upgrades. Justin answered dozens of questions while we were there and continued to support us after our departure. This is the kind of experience we were hoping for. Thank you Lichtsinn team for making us Lichtsinn RV fans!"
Cheryl from Forsyth, GA
---
"Everything went so smooth, Reed has been really helpful. We will definitely come back!"
Ziyi from Hillsboro, OR
---
"Just made it home after a 2200 mile trip from Forest City to Lodi CA. A whirlwind trip, but was able to camp in some great places, and put what I learned in the orientation to good use. The entire experience was great, from purchasing via video walkthrough, to the great shuttle driver Jerry, to being treated so well at every step. At no time did I ever get that feeling you get in auto dealerships....Kudos to Heidi for running a great team effort and to Reed for making the purchase go smoothly! Love our 26T!"
Brian from Lodi, CA
---
"My experience with Lichtsinn was excellent from start to finish. Reed walked me through the process by phone and then in person - the entire transaction was a pleasure. I'm know Reed works with lots of customers, but he made me feel like I was always a priority. If I could give 6 stars I would."
Kevin from Arlington, VA
---
"I am a very pleased customer!!!! The staff went above and beyond in helping me with the purchase of my new 2021 Minnie Winnie 26T. I purchased it over the phone and they handled everything for me. They kept me updated continuously until it arrived, assisted with the insurance and the must have accessories. So friendly and professional from beginning to end. I honestly felt I was in the best hands as this is my first motorhome. Thank you so much Reed for assisting with the purchase and Brett for teaching me the ropes. I am forever grateful to you all for making my lifetime dream come true."
Lisa from Hot Springs, AR
---
"It was nice to see you a few months ago when I traveled up for some routine maintenance. After that 1600 mile trip I headed west from Oklahoma to California the beginning of February for a two week long road trip. I took I-40 all the way to the central coast of California and spent a week in San Luis Obispo with friends and celebrated the super bowl there. Then I traveled down the coast to Mission Viejo  to visit my sister and also San Diego for a day to see cousins. 
The 2020.5 G performed perfectly and the Truma was nice to have when I was camped out in two feet of snow in Flagstaff, AZ at 7500 feet elevation and it stayed 68 degree's inside all night. I have driven over 800 miles a day a few times in one day and for some reason I don't get tired like I do driving my car. 
Well I have been to 13 states and over 14,000 miles from my home base in Oklahoma in less a year. When people ask me where I purchased my Travato I always tell them I have flown and driven 1600 miles round trip to purchase and have service done at a dealer I trust and that is Lichtsinn." 
Paul from Cache, OK
---
"Reed, Brandon, and the rest of the team at Lichtsinn did such a wonderful, professional and efficient job of delivering our new 2021 Winnebago Revel. As a sales professional myself, I recognize when an organization has the kind of PEOPLE, systems, and management practices in place that create an exceptional customer experience. Lichtsinn's RV is a wonderful example of such an organization. Why would you buy an RV anywhere else? Thanks to all for a great experience." 
Rick from Hanover, NH
---
"We just took delivery from Lichtsinn of our 2021 Minnie Winnie 26T and could not be happier with the unit and Reed Burkholder our sales rep. We drove out from Denver with our trade in (for which we got a good value) and were treated like valued customers by everyone we met there. When it's time to buy again, we are definitely contacting Lichtsinn first!" 
Jim & Jean from Greenwood Village, CO
---
"This is my third new RV purchase and Lichtsinn RV is the gold standard that all Winnebago dealers should strive to emulate. A pandemic, challenging travel environment, and factory shutdown made the Lichtsinn experience different but still rewarding. Reed Burkholder, my sales consultant patiently answered all my months of emails and phone calls and checked on on me as I drove 1800 miles home. Brian Buffington, the service director, spent considerable time with me during an evening when he could have been home. And with a delayed flight and late evening arrival Brandon Mondt managed the paperwork so I could spend the night in my new Forza. Thank You LIchtsinn."
Greg from Sister, OR
---
"I had been looking for a class B van for the last year and a half. I started watching the YouTube video's that Ron put's out and reached out and contacted Reed my salesman at the dealership. After looking in my home state of Oklahoma and north Texas it was obvious I needed to make the 800 mile trip to Forest City, Iowa. My son and I flew to Minneapolis and were picked up at the airport by Jeremy who happened to be the person who was doing our orientation on the Travato. Not only was the cost of the Travato less but I ended up getting my insurance there also. Kevin handled the paperwork which took less than 30 minutes and Maggie took a picture of the proud new Travato owners. I am so glad I made the trip and don't be afraid to go the distance because it is worth it. The dealership is first class and all they sell is Winnebago so they know Winnebago inside and out. Also they have the best selection. I can't thank the team at Lichtsinn enough for making a long trip a very pleasant one. I just wish they were closer to me so I could go there for any service needs."
Paul from Cache, OK
---
"Reed and Brandon were so quick to response to all questions we had on our new Travato. The act of friendliness and helpfulness we had was above and beyond."
Liisa and Quentin from East Wenatchee, WA
---
"Beginning with my first conversation with Reed Burkholder I felt comfortable dealing with Lichtsinn RV personnel. Reed and I quickly came to agreement on a purchase price for the RV I was interested in. The process was very smooth and all communication was complete with timely updates."
Al from Box Elder, SD
---
"Thank you Daryl, Reed, Kevin and Brad for exceeding our expectations. Being that we are first time RV owners with lots of questions, your patience, kindness and overall professionalism was very much appreciated. It was definitely worth the airline tickets from Phoenix to Des Moines and drive back for the experience and service we received from the Lichtsinn team!"
Alec and Kim from Scottsdale, AZ
---
"Reed, Brandon, Justin, Ron and the whole Lichtsinn team made this a fantastic experience. As a first time RV owner, I had lots of questions (and continued to have them on my 1130 mile drive home) and the guys were happy to assist throughout, which was much appreciated! No matter where you live, I absolutely think it's worth it to make the trip to Lichtsinn if you're thinking of buying a Winnebago."
Stephanie from Box Elder, SD
---
"Great Staff!! Excellent customer interaction. Would definitely buy another Class A from them! Reed was an awesome sales person!!"


Bill from Roslyn, WA
---
"#1, Best deal we could find, and worth driving the 2000 miles from California for. What was the decisive factor was there honesty and trust that I felt dealing with them. Reed and the rest of the staff became instant friends! Wish we lived closer! We felt fully confident on their preparing us and any follow up we may have. By the way, first time we've ever had a MH (our 4th) prepared so so well. We have no issues! Thanks to all the staff hope to make our rounds again. Special thanks to Reed and Kevin."
Bobby from Jamul, CA
---
"After putting our first 3,000 miles on our certified pre-owned Winnebago Era 70x 4x4, I am able to say, without a doubt that we made the right purchase! The whole idea of dealing with a dealer was, quite honestly, dreadful. We would sneak onto lots and rush from rv to rv, while trying to avoid the swarm of salesmen ready to give us their sales pitch. After doing a little leg work in our neck of the woods, we started to run into difficulty finding a 4x4 model. After a brief chat via messenger on a Lichtsinn site, I learned the color we wanted did not come in a 4x4. I received an email from Reed in Forest City moments after closing the chat. They had the most ideal RV for us. We were able to negotiate smoothly with Reed and were VERY happy with all the final numbers. 10 days after starting to talk with Lichtsinn, we flew in from WA to IA to pick up our RV! Due to our schedules and the drive home ahead, we did not have a lot of time. Our orientation began almost immediately upon arrival. Bret answered all our questions and skipped the basics that we had covered. Then we scooted inside, signed papers with Kevin, picked up a few items from the store, and out the door we went. As everything became final, it was realized that the previous owner only turned in 1 key. Hannah handled this issue very professionally and a check was issued in the amount it would cost to get another key made in WA. Overall, that was by far the BEST buying experience!"
Sara from Tumwater, WA
---
"We were on the hunt for a Minnie Winnie 26A with all the options. The dealers around us had no stock so we searched the web and Lichtsinn was the only dealer who had exactly what we wanted. I contacted Reed and started a 2 month process to purchase our new motorhome. The one thing we had to get customized was replacing the gas oven with a storage drawer, and that was arranged to be done at the factory. Being only a mile away from the factory allowed this to be completed quickly. We drove in from Florida on the day we had arranged with Reed and a spot was set up for us to stay in our new coach. We toured the Winnebago factory, which confirmed we had made the right choice. Papers were signed, and we spent a night getting acquainted with our Winnie. The next morning our tech was at our door at 8:00 am as scheduled. All questions were answered and all systems were explained, and we were on the road. Everything was completed quickly and efficiently. We had absolutely no problems on our trip home. Great dealer and great people."
Jeff and Maura from Hernando, FL 
---
"We are also first time RV owners, but we were able to find exactly the B-Class unit we wanted (Paseo) and paid a good price at Lichtsinn. The best part, though, was the purchase experience. We flew to Minneapolis and Lichtsinn arranged to have a driver pick us up and bring us to Forest City where we completed the paperwork and briefing that afternoon. Reed choreographed the whole visit, got us a courtesy vehicle and pointed us at the right factory tours. Kevin made the purchase and insurance process easy -- he beat the rates we could get as well. Lastly (but not least), Brad did an fantastic and patient job explaining the vehicle systems. Spending the night in the RV right at the dealer was excellent -- we could check that we knew how to use all the systems in this complex vehicle. The service guys were on-top of everything we discussed with Brad the previous day so the vehicle was ready to go when the tours ended. The drive home to Detroit was fun too. We still aren't experts on the vehicle systems, but we would recommend Lichtsinn to anyone who wants a Winnebago."
Art from Grosse Pointe Farms, MI
---
"We just bought our second RV from Reed at Lichtsinn RV. We are very happy with his friendly informative sales. We are still asking questions but everyone is very helpful when we call."
Marcy and Bob from Alamo, TX
---
"After what seemed like a very long wait we picked up our new Revel on June 6th. Everything about our buying experience with the group at Lichtsinn RV - starting with Reed Burkholder in the sales department thru the orientation was fabulous. Everyone was friendly, helpful and extremely knowledgeable in every way. As we drove away with our new toy - for a five day drive back to California - we did so with smiles on our faces. We would highly recommend Lichtsinn to anyone interested in purchasing a RV - you won't be disappointed with the customer service."
David and Roseann from Trabuco Canyon, CA
---
"Purchased used coach sight unseen from Reed Burkholder, there were no negative surprises and some things were better than expected. Excellent support from service department and all concerns were taken care of without any delays. Well organized and clean dealership."
William from Kingston, NY
---
"My husband and I live in Texas and just purchased the new Horizon 40A. So many of our friends use Lichtsinn RV as their dealer and we decided to work with them on this purchase. We are so glad we did. From the minute we started working with them, the experience was a breeze. We drove our Winnebago View to Forest City to trade it in on the new coach. The team is very knowledgeable and efficient, Reed, Hannah, Anders, Brad, Luke, Lonnie and Brandon. Really a special organization that Ron Lichtsinn has put together. It was a great decision."
Tim and Debbie from Magnolia, TX
---
"Reed was FANTASTIC!! Luke provided a fantastic orientation, best we've had, particularly since it was the first delivery of a Revel."
Eric from Breckenridge, CO
---
"Each department that I encountered in the sales process showed great concern that all my questions were addressed to my satisfaction. Reed listened to my wants and treated me with respect. The orientation process was awesome, makes a person feel very comfortable with their new coach."
Michele from Spicer, MN
---
"We purchased a Forza 34T from Reed Burkholder in August 2017. Not only was he great to work with but the entire Lichtsinn team exceeded (and continue to exceed) our expectations! Due to Hurricane Harvey back in our hometown of Houston, we were stuck on the Lichtsinn lot for 7 days! They were super accommodating and even loaded our new RV up with food & clothing donations for us to take back to victims of the hurricane. The service department (Anders in particular) continues to be a tremendous help even after the sale. Ron Lichtsinn leads a class act company! If you are looking for a new or used RV you've found the right place!"
Lin and Ann from Houston, TX
---
"I purchased a new motorhome from Reed at Lichtsinn RV and drove it back to California. Unfortunately Reed was out due to maternity duties. Hanna got me all set up when I arrived and Brian did a great walk through with me the next morning. Everyone I met there from the driver who picked me up at the airport to the counter workers were friendly and courteous. I'm very pleased with this organization."
Tom from California 
---
"We have been looking for a small, used class C motor home for over 5 years and have visited many dealerships in Arizona and around the Midwest and found Lichtsinn to be, hands down, the best experience we had shopping for our RV. Reed was very helpful in finding the exact vehicle we requested, Dan made getting the paperwork completed easy, and Brad gave us a very thorough and helpful orientation. If you live in the Midwest and are looking for a motor home this is a must stop, and if you live outside the area this dealership is well worth the trip! Thanks Lichtsinn RV - we are very happy RV'ers!"
 Vanessa from Minneapolis, MN
---
"We just concluded a purchase of a Grand Tour and give a big thumbs up to all the Lichtsinn personnel involved. I had been talking with Reed Burkholder off and on for 3 years as we anticipated our next RV and he was always helpful and forthcoming with information. We were able to work out all purchase and trade details over the phone before traveling from Tennessee to Forest City. Dan Helgeson was our advocate in securing favorable financing and in working out the documentation details required. I spent several days on-site before taking delivery and then a few afterwards as we moved from one coach to the other. Hanna Lunning stepped in when Reed was away to facilitate the delivery and further smooth the process. Also, thanks to Justin Overland in the service department for his continuing help after the sale. I anticipate coming back to Lichtsinn for annual service."
Steve from Signal Mountain, TN
---
"Someone was always available to answer questions when I would call or would get right back to me if they were busy. Felt immediately welcomed when arriving at Lichtsinn. My name on the map board was very cool. Made to feel like I can call back at any time for help."
Connie from Laconia, NH
---
"Friendly, helpful staff. Everyone was knowledgeable and had a positive attitude. Ease of purchasing our RV via phone and internet. Scheduling a technician to go through your RV with you and spend as much time as necessary for you to feel comfortable with the operation of our RV."
Barbara from Texarkana, TX
---
"Genuine customer service. Reed made sure my needs and comfort were met. He took time to explain things, made sure that I understood and answered my questions with sincerity. "
Tom from Arnold, MO
---
"The salesman was not high pressure. He was great at explaining the RVs. Our experience was very positive for purchasing our first motorhome!"
Merle and Ruth from Iowa Falls, IA
---
"Great people, excellent service and Reed went above and beyond. Brandon was thorough and explained all our options helping us to make sound decisions to suit our needs. Travis was patient and informative. Justin was reassuing as we begin this new adventure. A huge TEXAS YEEHAW and thank you to YA'LL!"
Terry and Lydia from Vidor, TX
---
"We had the BEST buying experience ever. This is truly a customer oriented dealership. Our sales consultant Reed Burkholder was the finest sales professional we have EVER worked with-thorough, honest and professional in every respect. Every other member of the staff treated us as VIPs even though we were just normal customers. I have bought five RVs and that was the finest experience I have ever had. I drove over 800 miles to deal with Reed and his colleagues. It was worth every minute. Words fail me because I run out of superlatives when describing my experiences at this truly outstanding dealership."
Dick and Mary from Colorado Springs, CO
---
"We could not be more pleased with our experience at Lichtsinn RV! The Lichtsinn team exemplified professionalism, friendliness and fairness. Reed our sales consultant stuck with us throughout the whole experience, finding solutions to our unique set of needs and engendering a high degree of trust. Brandon in the finance department worked with us regarding all issues arising from us being residents in a foreign country and solved any other issues that came about. Our service consultant Justin showed extreme patience and answered question after question with good humor. Mark, a service tech gave us an excellent, almost 4-hour orientation. Hannah, the sales manager set up a great tour of the Travato plant with her father. In addition, the staff treated us with kindness and warm smiles which went a long way to make purchasing an RV a pleasant experience. The Lichtsinn RV team is as good as the standards its leader sets!"
Bill and Sima from Chicago, IL
---
"Reed provided us with excellent customer service. Ben and Anders in the service department were very willing to explain the motorhome functions to us. Brandon in finance department was very thorough going through the paperwork and explaining extended warranty information. Overall experience at Lichtsinn RV was great!"
Dick and Barb from Myrtle Point, OR
---
"Buying from Lichtsinn RV was a no hassle deal and we received a fair trade price. Reed and the rest of the Lichtsinn RV staff took care of us very well while we were there! "
Dalton from Cedar Rapids, IA
---
"All the employees were very friendly and helpful. Reed was patient when helping me with the many questions that I had and if he didn't know the answer he went to find the correct answer. I was grateful to be able to stay and test everything out so that I was confident when leaving with my new RV. "
Betty from Fayetteville, AR
---
"Exceeded expectations in all respects! Certainly the most satisfying vehicle purchase ever. Ron Lichtsinn and the entire staff demonstrated their commitment to customer (or "guest" as they say") satisfaction at every contact. From my first phone contact with salesman, Reed Burkholder, he set the tone of responsiveness, honesty, and service. Lichtsinn RV was in a whole different league from the dealers closer to home. I admit we did have some hesitation about flying 1/2 way across the US to pick up our Winnebago View and drive it back to Connecticut. We are so very happy we did.

The pricing was competitive and the service had been incredible. Everything was scheduled at our convenience and they accommodated some needed changes. After an early morning flight from New York, we were picked up at the airport and driven 2 hours back to Lichtsinn. Once there, Reed started the process for us. Brett Torkelson, a service tech, spent hours with us going thru the demo. After we finished the demo, we were able to park our new RV and plug in to on site power for our first night. We were given use of a courtesy car while our RV remained parked at Lichtsinn. The next day we had more questions and a few punch list items...all given prompt attention. Our Service Consultant, Justin Overland was consistently patient and helpful with our many questions and concerns. Overall, an awesome experience. Our appreciation to the fine folks at Lichtsinn RV for our happy entry in RV travels. (And a special note of appreciation to Ron Lichtsinn, who undoubtedly sets the standards of customer service and supports his staff in providing it.)"
Michael from Newtown, CT
---
"Using the inside Service Bay to transer our stuff into the new RV was great. Staff was excellent specifically: Reed, Mark, Dan, Hannah and Anders. Your facilities and Service Department was excellent."
Kerry from Jacksonville, FL
---
"I arrived to pick up my new Travato 59G late in the day, but the staff at Lichtsinn were wonderful as they assisted me in getting through orientation/inspection, financing and departure in a fast, efficient, thorough and friendly manner. The RV was immaculate and prepped perfectly. I'd like to thank Reed Burkholder (my sales consultant), Gary Compston (the driver who picked me up in Minneapolis), Hannah Lunning and Heidi Thompson for meeting with me, Ben Follman for the great orientation, Anders Bartleson for offering his Service assistance and Dan Helgeson for the no-pain paperwork and financing. It was a wonderful experience with professional staff that I don't hesitate to recommend to anyone looking for a new or used RV purchase. My only regret is that I couldn't hang around longer (was trying to beat the snow and cold back to the Northwest)!"
Roger from West Richland, WA
---
"Our salesman Reed, financing advisor Hannah, service rep Anders, service technician Brett and owner Ron all greeted us like a homecoming - "Welcome Home!". During our stay at the dealership we were given a loaner car which was very helpful."
"We had an excellent orientation with Brett. He was very patient with our newbie questions and was thorough when going over the details of our new RV."
Janet and Rachel from Davis, IL
---
"What a pleasure to work with Reed and all the other staff that helped with the delivery of our new Winnebago Journey. No high pressure sales tactics, and all issues we found were taken care of while we were staying at the beautiful Lichtsinn facility."
Larry from Frederick, MD
---
"Thanks to Reed Burkholder and the staff at Lichtsinn RV. I purchased my first RV in June 2016 as I needed a place to live while building a new home. Reed and everyone made it such a wonderful experience, that I decided I wanted a newer and smaller RV to use for pleasure. So Reed offered up several options so I had a nice array to chose from and I traded my 1999 Itasca Sunrise to a 2012 Winnebago Via 25Q. As a first time RV owner, I had my questions and concerns, but The Lichtinns staff answered everyone of them and made me feel a valued part their family. So thanks again, Reed, Heidi, Dan, Justin, Anders and Brett!!"
Michele from Spicer, MN
---
"The folks at Lichtsinn RV were awesome! I'm so happy with my RV and the buying experience. I have not had any troubles with my used RV so I do not know about thee service dept, but from what I've experienced so far I have no worries. Thank you Reed, Dan and Mark. Happy trails! "
Vincent from Litchfield, NH
---
"From the first day we walked in to Lichtsinn RV, we received excellent service and attention from their staff. Reed Burkholder discussed several options with us and after searching for many months, we finally found the Winnebago best for our family. Reed walked us through the process of ordering the RV and kept us informed with frequent emails over the summer as we anticipated its completion. It was a smooth process with many friendly faces and support along the way. We are pleased to have a Winnebago built in Iowa. We received great care from Reed and the entire staff at Lichtsinn RV. Thank you!."
Angie from West Des Moines, IA
---
"From Reed to Hannah to Joshua to Luke to Chris – everyone we've talked to, even those not directly involved in our sale – have been superb.."
Rick and Gwin from Oklahoma City, OK
---
"The sales and technician staff at Lichtsinn RV were so helpful to us as first-time-RV buyers. We traveled there to research our purchase for many reasons. The exact motor home we wanted was available there. The one-on-one training and complimentary overnight trial run right on Lichtsinn's property was a benefit that we highly valued. The next morning the technicians added follow-up support to the fulsome training we received the previous day to respond to question after our one night experience. But something I have valued beyond those things that one could say you should expect upon the purchase of a motor home, is the patient and expert responses to my questions that have come during or after a new travel experience. They also helped link us to local experts & service providers for our Era. I am proud to be a Lichtsinn customer and recommend them to others. Special thanks go to Reed Burkholder and the technicians who have helped this newcomer to the RV way of life. We are now ready to head out on our first cross country jaunt.." -Nancy from Ames, IA
---
"The entire operation works hard to provide excellent customer service. They are accustomed to working with customers remotely and they communicate regularly to provide updates which is nice. Hannah, the Business Manager, was amazingly helpful in assisting with financing. Hannah also made sure that all of the many loan closing steps were accomplished so that we closed on time. It was so nice to be able to email and phone actual people who wanted to help us accomplish our RV dreams. A special thanks to Reed and to the service department for helping us to figure out what features we needed. Would never buy a RV anywhere else!" - Amy from Las Vegas, NV
"This is an awesome dealership!!!!!. My sales consultant Reed Burkholder was so patient and knowledgeable in answering my many questions as a first time buyer. The entire staff from sales, administration, service, orientation to parts dept were so friendly. I purchased a used 1999 Itasca. The day I picked up the RV, I was given the same 5 star treatment as the other people picking up their brand new RVs. I stayed and camped overnight so I could asked questions the next morning. Very pleasant stay. I would recommend this dealership to anyone wanting to purchase an RV. If you spend a few hours in the dealership and visit with other customers, you can see why people come from all over to purchase RVs from this dealer. Thanks again everyone at Lichtsinn RV!!!!!!" - Michele from Blairsburg, IA
"Our salesman Reed and the entire staff at Lichtsinn are first class. This is the 5th Winnebago we have owned and the buying experience was wonderful! Thank you so much for a great time!" - Paul and Shirley, from North Liberty, IA
---
"We had a great experience here. Everyone was so pleasant and helpful. Above and beyond. A big thank you to the coolest salesman ever, Reed Burkholder. And spending that much money was made easier with the smile of Dan Helgeson (AKA Fluff). Thank you so much, guys. We'll miss you when we leave tomorrow.!" - Charles and Paula, from Ventura, CA
---
"What a truly flawless experience! We recently purchased our 2016 Navion J from Lichtsinn. I have to say, I was a little nervous about making such a large purchase via email and phone calls, but if I had to do it again, I would definitely purchase again from this company. Reed was our salesman and was quickly responsive to my MANY questions and concerns. I spoke with numerous people throughout this process from many departments. All were great. We flew there from Baltimore to Minneapolis and were picked up by Lanny Jenkins and had lively conversations with him all the way to Forest City, IA. We were greeted by Reed and had a short orientation to our new RV where we were given a courtesy car to use for our stay there. We stayed there on their lot for the night. We had a 3.5 hour THOROUGH orientation the next day with Ben who answered all our questions. We also met with Hannah who took us through all the final necessary paperwork. We had the pleasure of taking a fantastic tour of Winnebago, which really made us realize what a quality RV we had purchased. Prior to our leaving Lichtsinn, we decided to pump out and fill up our water tanks. Brian, who was working on another RV, came over and gave us newbies a great lesson on the process. We left after that and went to Moscow,IA to have the HWH levelers installed which was yet another great experience! The ride back to Baltimore was enjoyable and helped us get used to our new RV. Would be happy to talk with anyone who had questions about purchasing from Lichtsinn!!" - Carol and Tom from Grasonville, MD
---
"It was a pleasure to do business with Reed and everyone at Lichtsinn RV. All were very helpful, pleasant, and willing to take time to explain all aspects of the sale. Your kind of company is very hard to find. All too often all they are interested in is getting paid and showing you to the door. You folks will have only good things in my memory and many thank yous!" - Wink from Sheridan, WY
---
"You have a fantastic team at you dealership... Not only did your team take care of my numerous questions..their enthusiasm instructed me every step of the way. Ben has to be your best hands on instructor as he was so very patient and personable. I would be remiss if I failed to mention Hannah, Justin and Brian who were great at making  my purchase so positive..of course it all started when your skillful salesman Reed initially hooked me...I highly recommend the unusual experience you have created in purchasing an RV!" - Ida from Knoxville, TN
---
"After taking delivery of our Itasca 26HE and returning to Texas we could not be happier with our purchase and especially the opportunity to purchase from your dealership. Reed and Hannah were incredibly helpful and professional during the process." - Mark and Kelli from Texas
---
"Reed, I just wanted to say what a pleasure it was to do business with you and the rest of the Lichtsinn team. It was a wonderful buying experience all around for my wife and I. We will most definitely share our experience with others. Your attention to detail and willing to go above and beyond was evident from the first time we met with you last October. The buying process was easy. The delivery process was easy and thorough. We will not hesitate to buy from you again. Thanks for all your help and have a great day." - Dustin Leen
---
"Ray and I would like to 'thank' you, and your staff, for the pleasant experience we had during the process of purchasing our 2014 Adventure 32H.
It was a pleasure to work with Reed, Hannah and Bill ...they are very professional, friendly and knowledgeable individuals. Reed...did a great job of staying in touch with us during the whole process, promptly communicating any details we needed to know to complete the purchase and delivery of our coach. Hannah was very organized and made completing the paperwork quite easy. And, yes, Bill's orientation was very helpful. He did a great job of explaining the workings of the mechanical and electrical parts of the coach with detail and he was able to answer all our questions. 

Again, we 'thank the staff' at Lichtsinn RV for making the purchase of our Winnebago an enjoyable experience and we look forward to warm weather when we can get out and enjoy our new Adventurer." - Sincerely, Ray and Kay
---
"We bought a new Motorhome from Lichtsinn during GNR. Lichtsinn has the greatest customer service that we have ever seen. During the initial discussion of our trade-in, the day we closed and the day we took possession of our new Motorhome they were absolutely great. Ron, the owner, Reed, salesman, Hannah, financial person and Brad, service technician were knowledgeable, patient and answered all of our questions. We spent 2 days in their parking lot when we picked up our new home and they were always available for more questions. it was worth the 350 mile drive and we would do it again." - Ronald Joan Wayer
---
"Your team is great... Bill is an awesome trainer and person. He was very patient and understanding, knowing that I am a newbie. Reed and Hannah make the process easy. Thanks again for you help. You should be very happy with your staff." - Les Morrow
---
"We cannot thank you enough for all of your help. The coach is everything that we were hoping it would be!! And of course, I cannot say enough good about all of yall at Lichtsinn. It was truly a fun experience. Wish we could have stayed longer and gotten to know all of you better. Please pass on our thanks and appreciation to Brad and Travis for their help, and especially to Hannah for all she did! When we receive the survey from Winnebago we will have no hesitation to give you the highest marks! Thanks again Reed, and we hope we have the opportunity to see all of you again sometime." - Bill and Theresia Riley
---
"Stayed two nights at Lichtsinn lot. Very enjoyable experience. Reed and all the rest of the Lichtsinn staff were extremely helpful, nice and very competent. Explained everything about our View and answered all our questions. We have never felt so trusting and well cared for by an rv dealer. Quite an amazing organization. Highest quality everything - motor homes, facility, staff and customer service. Love our new rig. It is in phenomenal condition and includes a 60 day warranty!" - Steve and Margaret
---