Hymer Aktiv vs. Winnebago Travato  
Based on the powerful, fuel-efficient Ram ProMaster chassis, the Travato has been at the forefront of the camper van revolution since its launch in 2014. Thanks to premium features such as the energy-saving Truma Combi eco plus heating, the Deluxe FROLI sleeping system and Corian countertops, the new Travato is better than ever. With significantly upgraded standard features like 200-watt solar panels and new interior décor colorways, alongside several options, you can tailor the Travato to suit your needs.


8 Reasons Why the Winnebago Travato is Superior to the Hymer Aktiv - 
We compared the Winnebago Travato to the Hymer Aktiv and we found these 8 key differences. 
Increased Floorplan Options in the Winnebago Travato 
Solar Panels Standard in the Winnebago Travato
Flexible Sleeping Options in the Winnebago Travato Compared to the Hymer Aktiv 
Deluxe Froli Sleep System Exclusive to the Winnebago Travato
Premium Interior Materials that are Higher Quality and Reduce Weight 
Exterior Features for the Adventurous RVer
Superior Air Conditioners and Fans in the Winnebago Travato 
Winnebago's Superior Construction 
Winnebago's Pure3 Energy Management System vs. Hymer Aktiv EcoTrek 400
Introducing the Pure3 Energy Management System: the most powerful, durable and easy-to-use lithium energy system in the industry. This best-in-class system is built in the U.S.A in partnership with Volta Power Systems. 

The Pure3 Energy Management System is... 

Powerful - Provides users with 30 AMPs of 110V A/C all the time, anywhere. Allows for owners to operate the air conditioner from stored energy and you can run ALL your appliances while driving. When used in combination with the Truma Combi Eco Plus, the Pure3 system can electronically heat the coach and water, reducing the use of LP. 

Reliable - The Pure3 system is designed for longevity and safe operation and is virtually maintenance-free. The Pure3 contains the same technology used in electric vehicles, like Tesla, and the battery is stored in a temperature controlled compartment. 

User-Friendly - The Travato 59KL and 59GL featuring the Winnebago Pure3 Energy Management System has simple, seamless operation and it only takes one button to activate and operate all the coaches' appliances. The Pure3 system allows you to recharge the battery by driving, idling, or being plugged in. 

Sustainable - The Pure3 system has the most efficient solar controller in its class and has recyclable batteries.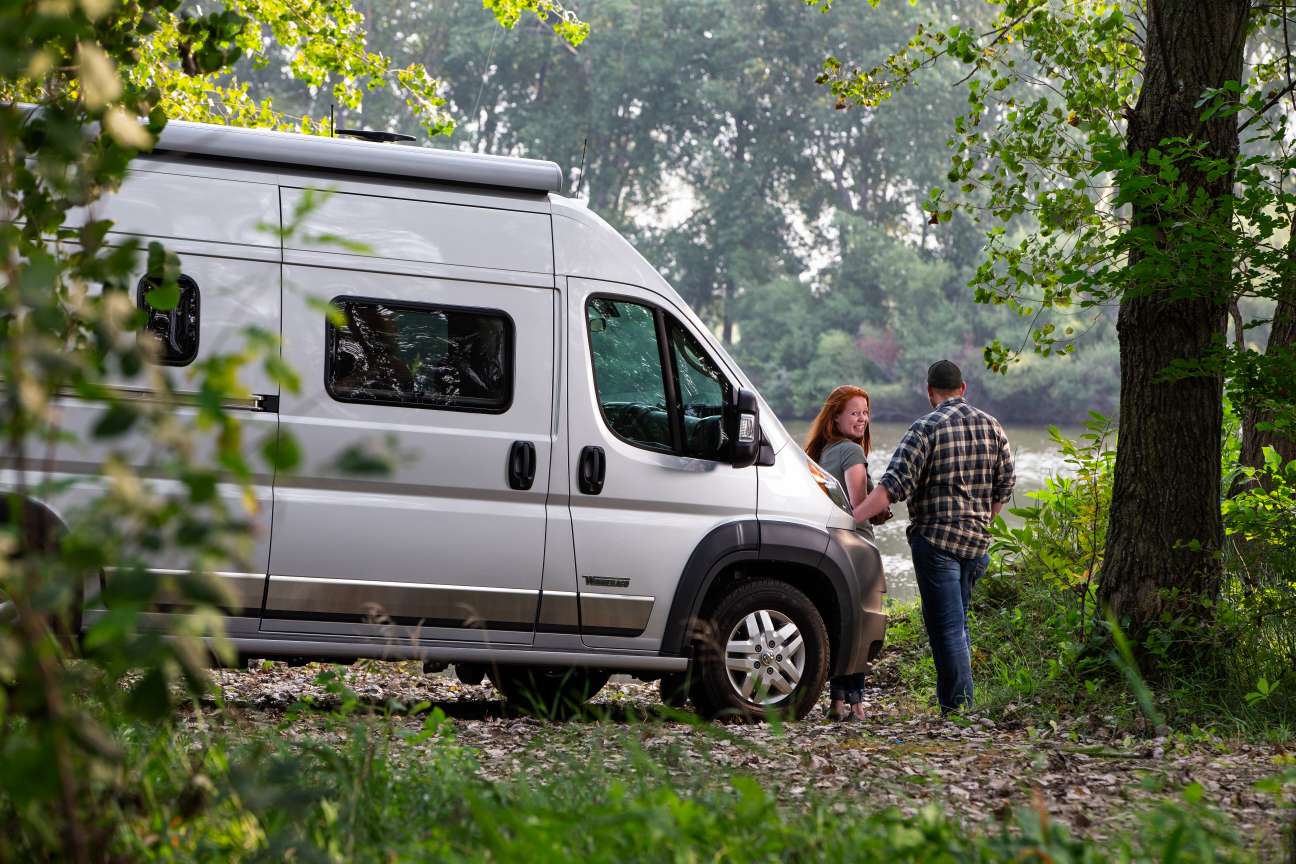 See How the Pure3 Energy Management System Compares to Hymer's Ecotrek 400
Available Power 

Winnebago Pure3 - 30 Amps of Power WHEREVER you go - BEST IN CLASS ADVANTAGE - More Power to Run Appliances
Hymer EcoTrek - 17 Amps of Power 

Voltage 

Winnebago Pure3 - 48 Volt - BEST IN CLASS ADVANTAGE - Faster Charging and Decreased Energy Loss 
Hymer EcoTrek - 12 Volt

Energy 

Winnebago Pure3 - 8,700 Watt Hours - BEST IN CLASS ADVANTAGE - Longer System Run Time 
Hymer EcoTrek - 4,000 Watt Hours 

Charging Power

Winnebago Pure3 - 6,000 Watts at 58 Volts - BEST IN CLASS ADVANTAGE - The Fastest Charging System
Hymer EcoTrek - 3,500 Watts at 12 Volts

Charge Time

Winnebago Pure3 - Approximately 2 Hours - BEST IN CLASS ADVANTAGE - More Freedom to Explore
Hymer EcoTrek - Unknown Charge Time 

Lithium Ion Type 

Winnebago Pure3 - Automotive-Grade Lithium Nickel Manganese Cobalt Oxide - BEST IN CLASS ADVANTAGE - Superior Lithium Battery and Longer Life
Hymer EcoTrek - Consumer-Grade LFP Batteries, Similar to the Batteries in Household Electronics 

Battery Life 

Winnebago Pure3 - 10 year / 2,000 cycles at 80% - BEST IN CLASS ADVANTAGE - Enjoy your Winnebago Travato 59KL and 59GL Longer
Hymer EcoTrek - Unknown Life

Ease of Use 

Winnebago Pure3 - 1 Button Activates the System and 1 Analog Gauge Tells You How Much Power Remains  - BEST IN CLASS ADVANTAGE - Easiest to Use
Hymer EcoTrek - Multiple, Confusing Controls 
To See Additional Detailed Information on the Winnebago Travato: CLICK HERE
For Winnebago Travatos In-Stock: CLICK HERE