RVers increasingly are looking for technology that enables them to stay connected to family and friends, work remotely, or stream media. So, we created a step-by-step tutorial for finding the perfect option for you. See it here.
There are 2 main ways to access friends, family and the internet while on the road:
Public or private accessible WiFi networks (RV parks, libraries, rest stops, Starbucks, etc.)
Wireless service providers (cell phone networks – Verizon, AT&T, Sprint, T-Mobile, US Cellular, etc.)
Or, you can access the internet with a combination of cellular internet and free WiFi.
Public or Private Accessible WiFi Networks – Standalone WiFi Boosters 
The goal of WiFiRanger products is to enhance existing internet sources and make them more usable, while also combining these internet sources as desired for the most speed, reliability, and automatic backup. WiFiRanger products can reach weak WiFi at extreme distances and also tether to your USB MiFi, Aircard, or Smartphone.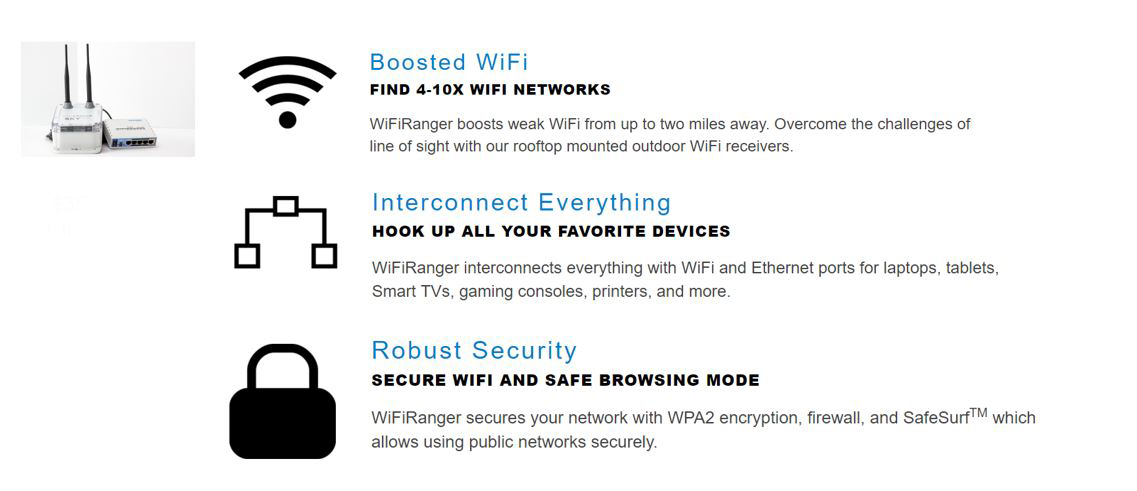 Cost of WiFiRanger products: $359 – $749 + installation
How does the WiFiRanger work?
Boosted WiFi – Find 4-10x wifi networks, the WiFiRanger boosts weak WiFi from up to two miles away. Overcome the challenges of line of sight with our rooftop mounted outdoor WiFi receivers.
Interconnect Everything – Hook up all your favorite devices. The WiFiRanger interconnects everything with WiFi and ethernet ports for laptops, tablets, Smart TVs, gaming consoles, printers and more.
Robust Security – Secure WiFi and safe browsing mode. WiFiRanger secures your network with WPA2 encryption, firewall and SafeSurf which allows using public networks securely.
Wireless Service Providers – Cellular and Internet (4G)
RVing allows you to see the country, which often then comes with the price of poor cell phone reception due to distance from the nearest cell phone tower and objects, including your RV, that obstruct the signal.  Using your cellular phone or a cellular hot spot to provide internet can be the most economic way to stay connected via the internet as you can use your existing data and you're not tied down to a facility with internet.  There are options for improving your cell signal so you can stay connected via voice or for using your data for internet connectivity, even when you're in the middle of nowhere.

weBoost Drive 4G-X RV –
$529.00 Parts
$951.99 Installed
The weBoost Drive 4G-X RV is our powerful RV cell phone signal booster kit certified for use anywhere in the US. The Drive 4G-X RV boosts voice and data with max FCC allowed 50 dB system gain, enhancing 4G LTE, as well as 3G network signals, up to 32x.  RVers get fewer lost connections and dead zones, better call quality as well as faster data uploads and downloads whether parked or in motion in their RV.  Works in all classes of RV; Class A, Class B, Class C and all towables.
How the weBoost Drive 4G-X RV works:
Receives Signal – the booster reaches out to the cell tower to access voice, text and data signals while parked or in-motion.
Boosts Signal – the booster receives the outside signal, amplifies it up to 32 times and sends it to the inside antenna.
Expands Signal – the inside antenna broadcasts the boosted signal to devices inside the RV.
Combined Cellular and WiFi Boosters
As pricing of combined cellular voice and internet boosters have continued to drop, these boosters make it simple and affordable for improved voice and data coverage.  The Winegard ConnecT 2.0 combines cellular and WiFi boosting and can even use your own existing wireless provider!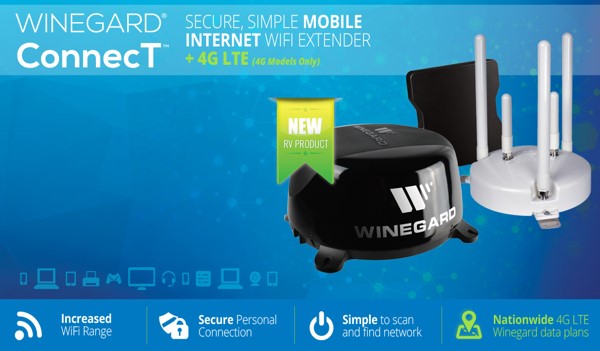 Winegard ConnecT –
$480.00 Parts
$902.49 Parts and Installation
How Winegard ConnecT works:
Connects to Winegard data plan: 30 day, no contract plans
Capability to swap SIM card to add to new or existing data plans from other carriers.
Step-by-step on screen instruction makes setting up a breeze.
Connect your WiFi devices to your new extended network instantly.
4G models connect to 4G LTE when WiFi is not available.
Easily connects your mobile devices, smart TVs, and gaming controls.
If you want to learn more about connectivity devices Contact us at 1-800-343-6255 or email parts@lichtsinn.com.