Lichtsinn RV in Forest City, Iowa

Lichtsinn RV is America's closest RV dealer to Winnebago, located just one mile north of the Winnebago Factory in Forest City, Iowa.
Winnebago Industries named Lichtsinn RV the Top North American Winnebago Dealer each year since 2015!
We proudly sell New RVs manufactured by Winnebago Industries as well as Used RVs. 
Lichtsinn RV also sells the Winnebago Touring Coach Class B Camper Van line of the Winnebago Travato, the Winnebago Revel, the Winnebago Boldt, and the Winnebago Solis - Class B motor homes built by Winnebago Industries in Forest City, Iowa.
Being the closest dealer to the Winnebago factory affords us the opportunity to provide you with speedy delivery of parts from our warehouse and Winnebago. We offer Winnebago, Itasca, Winnebago Touring Coach and Workhorse parts at competitive discounts and we offer fair shipping quotes, and you can avoid sales tax on out-of-state shipments!
We have RVTI certified technicians to service your motor home, travel trailer or fifth wheel. Our Flying W customer satisfaction index scores rank in the best of class for Winnebago Dealers!
See our interactive map of the Lichtsinn RV Family Motor Home Owners from around the world!


2023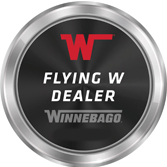 30th Consecutive Year as Flying W Dealer
#1 Dealer of Winnebago Motor Homes in North America each year since 2015
#1 Motor Home Dealer in Iowa Including: Class A, B and C's for 22nd Consecutive Year 
2022
29th Consecutive Year as Flying W Dealer
#1 Dealer of Winnebago Motor Homes in North America each year since 2015
#1 Motor Home Dealer in Iowa Including: Class A, B and C's for 21st Consecutive Year 
2021
28th Consecutive Year as Flying W Dealer
#1 Dealer of Winnebago Motor Homes in North America each year since 2015
#1 Motor Home Dealer in Iowa Including: Class A, B and C's for 20th Consecutive Year