Aluminess Accessories for the Winnebago Revel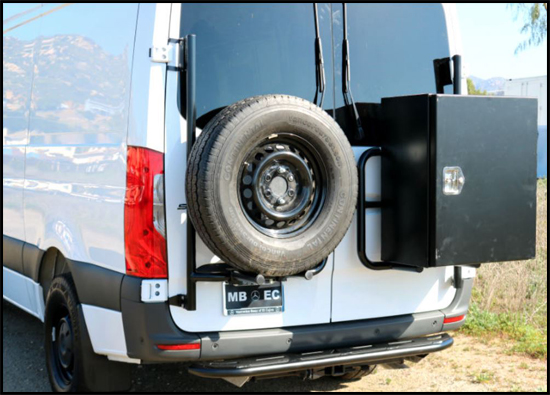 SPRINTER DOOR MOUNTED TIRE AND BOX
Price: Depends on Application
Introducing the NEW Aluminess Rear Door driver side box and tire rack for the Mercedes Sprinter. Oversize tires won't fit under the van and require the tire to be relocated. Not only can you carry your full-size spare, but you will now have extra room under the van for auxiliary fuel and water tanks.
This item bolts on using factory hardware inside of the door, No Drilling Required! Best of all, it works with both 180 and 270 hinges. No need to fuss with swapping out and painting new hinges just to mount your rack! Don't want to mount a spare? This tire rack can also hold one of our storage boxes!

Please call your Lichtsinn RV Parts or Service Consultant at 641-585-3213 to add this to your RV.