EasyStart Soft Starter for the Winnebago Revel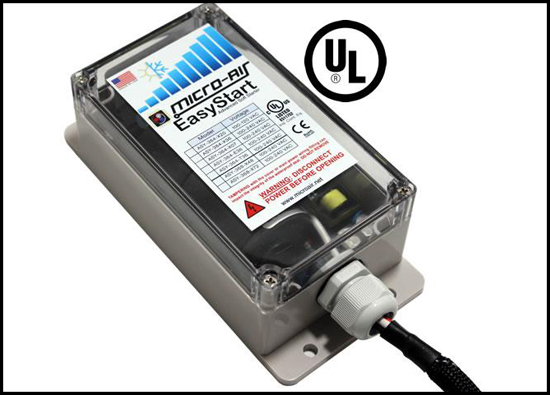 Price: $335.00; $538.00 (installed)
EasyStart is a one-of-a-kind, custom-developed soft starter for single-phase motors. It employs a 4-part start ramp sequence that is self-optimizing, resulting in the lowest possible start-up current. EasyStart can deliver 65-75% start current reduction as compared to a compressor's LRA (locked-rotor amperage). EasyStart is the perfect solution that allows an air conditioner or refrigeration compressor to operate on a generator, inverter, or limited utility power when it would otherwise not have functioned. It can also be applied to air compressor and fluid pump motors.
Air Conditioner Power Management in the Winnebago Revel
EasyStart Features:
Easy Start your A/C without buying a second or bigger generator or inverter

Run 2 air conditioners on a 30-Amp cord. (Note: Each A/C requires an EasyStart unit)

Sleep, with less noise, and cool all through the night

Run your A/C with more appliances at the same time

Add an A/C unit at low cost by putting an inexpensive EasyStart on each. Avoids expensive rewiring of the entire RV to upgrade to 50-amp.

Please call your Lichtsinn RV Parts or Service Consultant at 641-585-3213 to add this to your RV.