HWH Hydraulic Jacks for the Winnebago View and Navion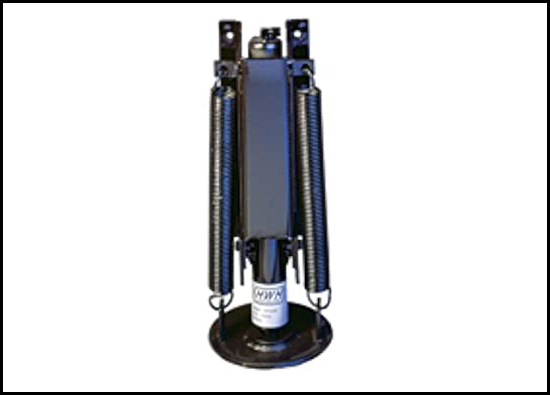 Get the Lichtsinn RV Discount, Call for more info. 
HWH has been in business since 1967 and started out by designed machines and hydraulic solutions for companies like John Deere and Caterpillar. HWH began manufacturing hydraulic leveling systems for the RV industry and became the industry leader in hydraulic and air leveling technology for the RV industry. HWH began installing leveling jacks on Winnebago Views and Navions in 2008.
HWH levelers are spring loaded to retract while competitors jacks are power up and power down, so if you have a jack failure when they are down, you are unable to move the coach. HWH leveling jacks provide a higher ground clearance when traveling and extension is also higher than the competition, providing better leveling excessive slope in emergency situations. HWH's leveling system can pick up an entire class A off the ground. 
HWH uses a special rear cylinder for higher weight load compared to the lighter and smaller rear cylinders found on competitors. HWH's jack pads are heavy duty, pivoting and easily replaceable. Competitors' jacks use a thinner octagon pattern that do not flex when the sand pad hits the ground, so they are more likely to bend and are welded to the frame of the coach, so they are not replaceable. HWH also understands RVers desire for four-season capabilities and the electrical connections to the jacks are made with all-weather technology, unlike competitors' using uninsulated pump and manifolds in their jacks. 
HWH levelers are so well respected in the RV Industry, the Recreational Vehicle Dealer Association's Master Certified RV Technicians endorse HWH's leveling jacks. Lichtsinn RV has a long, respected relationship with HWH. HWH has an excellent history of warranty, service and goodwill to our guests.
Lichtsinn RV is a HWH dealer and installer and offers a special discount for HWH leveling Jacks.
HWH Leveling Jacks 
HWH Leveling System Features: 
RV Stabilizing - Minimizes RV sway/rocking caused by interior and exterior forces 
Hydraulic Lifting Power - Enables efficient lifting of all applications large and small 
Corrosion Resistant Jack Rods - Made from in-house electroless nickel plated jack rods provide corrosion resistance, approaching stainless steel
Superior Electrical Construction - Weather tight electrical connections, sealed warning switches, custom engineered seals and plug-in harness connections ensure a reliable system
Jack Feet are Sized Appropriately - Jack feet (footpads) are sized in proportion to the weight of the motorhomes
Components are Designed for Motorhome Applications
Use of High-Grade, Corrosion Resistant Materials 

Please call your Lichtsinn RV Service Consultant at 641-585-3213 to add this to your RV.