KING Tailgater Pro Satellite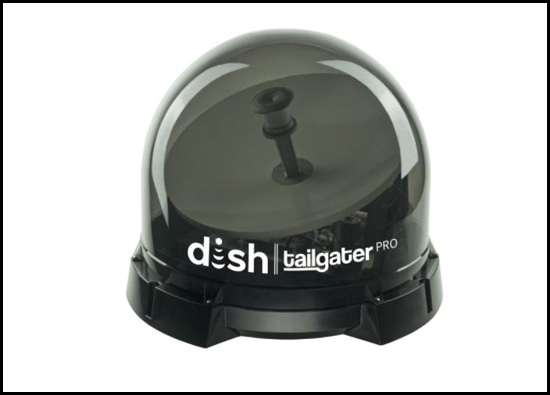 Price: $379.00 
With KING's next-level satellite antenna technology, your choice for satellite TV is clear. Bring the best entertainment to any outdoor event with the completely reengineered DISH Tailgater Pro. This reengineered, fully automated, premium HD satellite TV antenna includes an ultramodern, clear cover – always know where your antenna is pointing, an industry first! It's simply better, by design. With the Tailgater Pro, enjoying your favorite HD DISH satellite TV service is easier, faster and more reliable than ever before. The Tailgater Pro starts scanning faster and completes the scan more quickly than ever before.
Satellite Options 
KING Tailgater Pro Features:
Nationwide coverage 
Faster start up and scan time
Field upgradable software via USB
Fully automatic, simple set up
Industrial design and ultramodern, clear cover offer sleek look and leading signal strength
Portable or roof-mounted 
Lightweight, compact design with integrated handle for portability 
Easily viewable internal indicator light keeps you informed of antenna performance
Weather-resistant materials to withstand extreme heat/cold 
Dual coax output 
Powered through receiver (no separate remote or power source needed)
Find the perfect satellite for your RVing needs with our Satellite Finder Tool

Please call your Lichtsinn RV Parts or Service Consultant at 641-585-3213 to add this to your RV.