Micro-Air EasyTouch
™ 

RV Thermostat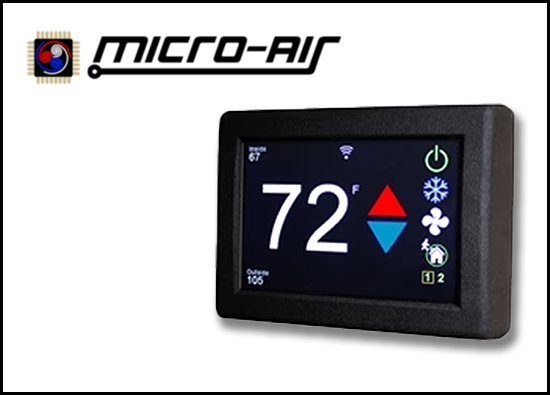 Price: $249.00; $350.00 (installed)
The 3.5" touch screen Micro-Air EasyTouch™ smart RV thermostat is the most advanced replacement thermostat for heating and cooling comfort. It has both Bluetooth and Wi-Fi features. Boasting a large touchscreen display for easy-to-read information and simple visual menu icons for quick thermostat adjustments. The free mobile application enables RV owners to adjust the temperature remotely, using a smartphone, Android, or other device. The result is a comfortable camping space, regardless of the weather, and convenience at your fingertips. In addition to its Wi-Fi feature, the EasyTouch™ RV thermostat also has built-in high and low-temperature alerts to keep the RV comfortable at all times. This provides peace-of-mind for the many RV owners that take their pets with them on their travels.
Micro-Air's EasyTouch™ RV thermostat replacement models are compatible with Dometic, Airxcel Coleman, Furrion, Atwood, and GE Appliances and include a two-year limited warranty. They are available with a black or white front. 
Micro-Air EasyTouch
™ 

RV Thermostat Video


Please call your Lichtsinn RV Parts or Service Consultant at 641-585-3213 to add this to your RV.