SumoSprings Added to the Winnebago Travato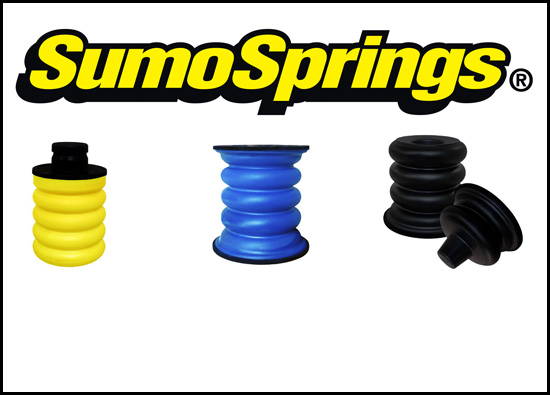 Pricing Depends on Application, Call for more info. (2020 and Prior Year Models Only)
SumoSprings are a patented suspension product designed to enhance load carrying capacity, stabilize sway, and improve overall driver control and ride comfort. They are maintenance-free, do not leak air, and do not require airlines or compressors. SumoSprings are manufactured in a variety of heights, dimensions, and densities to support multiple front and rear applications. They are manufactured from a proprietary closed-cell micro-cellular urethane providing a smooth and progressive spring rate. 
SumoSprings Features:
Shock absorption - superior dampening properties, ultimately reducing wear and tear 
Sway control - reduce sway by 30% 
Load support - progressive spring rate helps level varying loads 
Maintenance-Free - Fit it and forget it 
Leak-Proof - No leaks, ever
Reduce ownership costs - reduced wear and tear equals lower ownership costs 
Types of SumoSprings:
Rebel - Two-piece unit attached to top and bottom using separate male and female pieces allows for unrestricted wheel travel
Maxim - One-piece unit attached on top and bottom allows up to 80% compression and 50% extension of original body height 
Solo - One-piece unit attached on one end used as a replacement/upgrade to factory bump stops 
Color-Coded Densities: 
Blue - Light and medium applications
Black - Light, medium and heavy duty applications
Yellow - Medium and heavy duty applications 
Find the SumoSpring setup best for your needs by speaking with your Lichtsinn RV Service Consultant 

Please call your Lichtsinn RV Parts or Service Consultant at 641-585-3213 to add this to your RV.