TireMinder Tire Pressure Monitoring System at Lichtsinn RV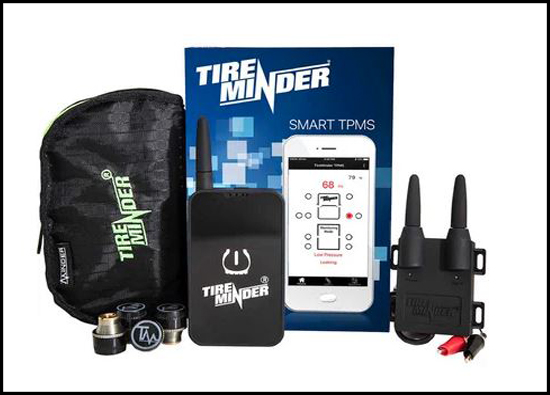 Pricing:
TireMinder A1AS-6 Tire Pressure Monitoring System Only = $579.00
Part #TM22130

Installed Price: A1AS-6 TPMS = $680.50
*Stem Pricing Not Included

Installed Price: with HiSpec Stems A1AS-6 TPMS = $938.50


With a large, beautiful display, the TireMinder® A1AS-6 tire pressure monitoring system is engineered to be a simple, yet powerful tool for monitoring tire conditions, no matter where the road takes you. The A1AS-6 features straightforward visual alerts, as well as powerful audible alerts, with easy to understand icons to know exactly what type of issue is occurring and where. From boat trailer to coach, the A1AS-6 monitors up to 22 tire positions, at up to 199 PSI, covering "all that you haul." Each one of those positions also updates on a consistent 4 minute update cycle. Not only do you get updated readings every four minutes, but the device also performs self-diagnostics every 6 seconds to instantly warn of unstable tire conditions. Besides pressure, the A1AS-6 will immediately alert if the internal tire temperature rises above 167 °F.
Extending Your RV Tire Life
Highlights:
Large, beautiful display (40% LARGER than previous models!)
Monitors up to 22 tires (0-199 PSI)
0.5 oz. transmitters screw on valve stems
Display PSI and temperature for each tire
Visual and audible high/low pressure alarms
BLOW-OUT ALARMS
Transmitters have REPLACEABLE batteries
Rechargeable monitor with battery indicator
Single action memory delete
Front or rear disconnect modes
Rapid connect
Re-set and automatic search
Kit Contents:
1 TireMinder A1AS-6 monitor
6 Transmitters
1 Rhino Signal Booster
1 Adjustable mounting bracket
1 Micro USB car charger
6 Anti-theft locking nuts
1 Locking wrench with valve core tool
6 Extra O-rings
12

Lithium Metal batteries

1 Convenient carry-all pouch

Please call your Lichtsinn RV Parts or Service Consultant at 641-585-3213 to add this to your RV.