Automatic Portable RV Satellite Options
If you are the adventurous RVer and camp with obstructed views of the sky such as heavily wooded areas, we recommend a fully automatic portable satellite than can be positioned anywhere near the RV! Call 641-585-3213 to order one of these satellites today!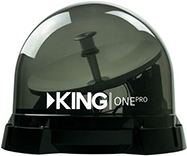 KING One Pro

The KING One Pro Portable Automatic Satellite
This small, easy to use, fully automatic antenna gives you the freedom to take your favorite DIRECTV, or DISH programming

 with you on the road.

It supports multiple TV viewing with a fully automatic satellite acquisition.
Includes a 50' coax 

cable with connectors pre-installed and a power inserter

. 

Use as either a portable or roof mount.
Compatible with:
Premium satellite TV antenna for all providers: DIRECTV

, DISH

 or Bell

Sale Price - $549.00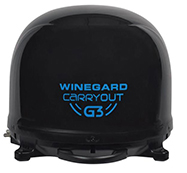 Winegard Carryout G3

The Carryout G3 receives DISH, DIRECTV, and Bell TV programming for the ultimate in provider versatility. The G3 supports multiple receivers so you can watch different programming from the same satellite on multiple TVs at once. Simple setup, ultra-small and compact. 
Includes a 25' coax cable and a 3' coax.

Optional roof mounts available or use the convenient tripod stand
Compatible with:
DirecTV (SD Only)

Dish (SD & HD)

Bell




Sale Price - $599.00
Need Some Help Finding the Right Satellite for you?