In-Motion RV Satellite Systems
There are great options for stationary automatic Dish Network satellite programming with clear views of the Southern sky! Call 641-585-3213 to order one of these satellites today!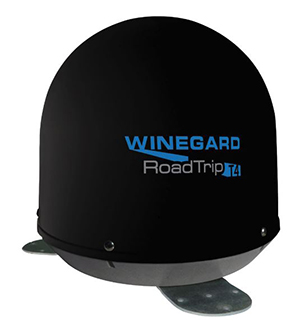 On the Go! All the Time!
The RoadTrip T4 In-Motion RV Satellite Antenna allows you to watch LIVE programming while traveling down the road! With the ease of one button on/off operation you will be watching your favorite program within minutes.
Smaller & Quieter!
The RoadTrip T4 is both smaller and quieter than previous WINEGARD in-motion satellite antennas. It is ultra lightweight at only 10 lbs. and with a total height of just 13.5" it is perfect for RVs with height restrictions. New motors and updated tracking algorithms reduce noise levels and improve tracking capabilities. 

Small Footprint On Your RV Roof
RoadTrip T4 RV satellite antennas have a small 14.3" diameter, requiring minimal roof space and no storage space.
Price - $1730.70 (Satellite Dish Only)
Price Installed - $2,465.70
Need Some Help Finding the Right Satellite for you?