Employment Information
Positions available:
Position: RV Service Technician
Description: Lichtsinn RV of Forest City, IA, has a Full Time Opportunity with a Consistent Monday-Friday schedule for an RV Service Technician.
Due to dealership growth, Lichtsinn RV has a full time opportunity for an RV Service Technician. Aggressive Pay Plan, with average wages of $960-$1825 weekly/$50,000-$95,000 annually awards performance and experience. Consistent Monday – Friday work hours 7:30am-5:00pm. Personal Days, Health Benefits and 401K Plan Available.

The successful candidate is motivated, efficient, enjoys being part of a team and is able to manage multiple tasks. Previous RV related technical experience is preferred but not required. Work related duties include but are not limited to: Pre-Delivery RV Inspections, Light Duty Truck Maintenance, Oil and Tire Changes, RV Upgrades/Add-Ons and Warranty Repairs including HVAC, plumbing, electrical, appliance repair, cabinet work, interior finishing and more. Training provided as needed.

This position will join our world class service team of service technicians at our state of the art dealership with climate controlled Service Shop temperatures. Lichtsinn RV has been awarded Winnebago Industries' largest volume sales and parts dealership in North America each year since 2015. We consistently receive some of the highest customer satisfaction scores in the industry.
Health Benefits and 401k Plan available. Pre-Employment Drug Testing and Valid Driver's License are required. Applications will be kept in strict confidence.

Contact:  Please email your resume or application and reference list to Brian Buffington, Fixed Operations Director at Lichtsinn RV Brian.Buffington@Lichtsinn.com.

Click here to learn more about joining our world class service team.
______________________________________________________
Position: RV Sales Consultant
Description: Lichtsinn RV of Forest City, IA, Winnebago Industries' largest volume dealership in North America for the sixth consecutive year, is hiring additional full time RV Sales Consultants to join our vibrant and energetic team.  We are a progressive, high growth dealership focused on a premium guest experience in an all new state of the art dealership facility.
This is an incredible developmental opportunity in which the successful candidate will possess strong guest service communications skills and strong technology and organizational skills.  We are dedicated to initial in-depth and ongoing product and professional training and development of the right candidate. 
Responsibilities include:  Helping guests throughout the country purchase preowned and new RVs, utilizing phone, online and in-person contact.   Working closely with guests to assist in selecting and purchasing the desired product, facilitating and executing a best of class delivery experience at our store and providing strong after-the-sale support.  You will work closely with all dealership departments to ensure a high level of customer satisfaction for our guests throughout their initial RV purchase and entire ownership experience, focusing on best of class product knowledge, strong communication skills and responsiveness.
Health Benefits and 401k Plan available. Pre-Employment Drug Testing is required. Applications will be kept in strict confidence.

Contact:  Please e-mail  application and resume to Heidi@Lichtsinn.com.
______________________________________________________
Application Information:
Please print out application below. Fill in information. Application may be faxed to 641-585-5756, attention (contact person listed above) or delivered to the dealership.
Adobe Acrobat Viewer is required to view this document. Please click here (a new window will open) to download the viewer from Adobe website.
---
Why our employees like working at Lichtsinn RV...
There are many great reasons to work at Lichtsinn RV including competitive wages, benefits, insurance, development through training, a positive work environment and much more. Here is what our employees had to say in our 2022 survey about why they enjoy working at Lichtsinn RV:
"A leader in the RV industry and you get to meet great people from all over the country!" 
"Clean and climate controlled environment." 
"We are provided everything we need to be successful." 
"Professional/kind co-workers and management." 
"Friendly environment and the great people I work closely with." 
"Opportunities to advance in the company." 
"The variety of tasks and interactions between not only guests but other co-workers."
"The acknowledgement and appreciation for staff." 
"Being a part of a successful and prominent dealership."
"Independent work environment. Success is driven by you." 
"Job Security." 
"All aspects of the organization from training, to scheduling and accurate communication with all employees. It is nice to
know exactly what is going on and what is expected of you." 
"Lichtsinn RV is interested in developing people who are interested in developing themselves."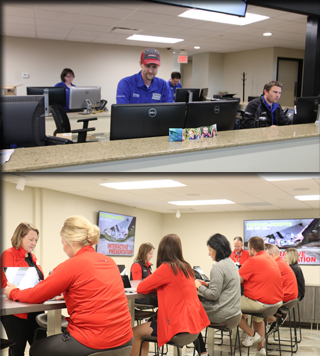 "Knowledgable, helpful and caring employees." 
"Family setting with a team environment." 
"Working with a variety of guests."
"We are a progressive business that leverages technology, training and its people to achieve success." 
"High driven workplace and employees." 
"I love the people we work with and get to make relationships with!" 
"Treated with respect and as a valued member of the team." 
"Challenging, ever-changing positive work environment." 
"I love the fast-paced environment. I love the fact that every day is different and you never know what you are going to get from one day to the next." 
"Facilities."
"Who doesn't love being #1 - we are the best in the US!"