RV Financing
We have relationships with many different lenders who have superior rates and terms so we are able to customize to fit the needs of our guests! In order to provide you with the best rate possible, please contact us directly so we may shop for the best rates available. 
Brandon Mondt & Kevin Breister
Business Managers


641-585-3213
CLICK HERE to Watch our Video Answering Questions on Financing and Insuring your RV

Rising interest rates are being forecast for borrower's in the coming months so it is important to lock in today's competitive rates. Loans are readily available to qualified buyers looking to purchase the RV of their dreams! Now Is a Great Time to Buy!

There are great deals available on exciting new and late model RVs and it is a great time to invest in an RV for years of vacation savings.


Deduct your Interest
For the vast majority of RV buyers, the interest on their loan is deductible as a second home mortgage. The RV must be used as security for the loan and provide basic living accommodations such as sleeping area, bathroom and cooking facilities. Virtually all RV types - motorhomes, travel trailers, truck campers and even most folding camping trailers - are equipped with these accommodations and eligible for the tax savings.
Bi-Weekly Payments
At Lichtsinn RV we offer bi-weekly payment options which can save you THOUSANDS over the course of your loan when you make a half payment every other week. This method is extremely convenient as your payments are debited electronically and sent to your lender on your behalf. It makes for easier budgeting, but more importantly, saves you interest and will dramatically decrease the life of your loan and improve the equity you have in your new RV.
Partner with Lichtsinn RV Finance Team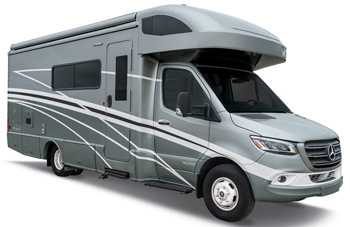 Whether you have the perfect credit score, or a more challenging credit history, our business managers will find the right RV financing option for you.
We work with several lenders to bring you the most competitive and flexible financing options around. We will do whatever we can to help you get the monthly payment and loan term that best suits your budget.
We offer financing and are authorized agents for several large major RV banks including Bank of America, US Bank, Bank of the West and several other major lenders. 
We generally provide a credit application to these banks and allow them to compete for the lowest rate.
All of our loans carry

no

fees at closing, no closing costs and no points.
In most cases, the interest can be deducted for tax purposes by qualifying as a second home.
We can generally do terms of up to 20 years! Pre-payments can be made in full or in part, at any time, without penalty with nearly all of our lenders. All of our loans are conventional

fixed

rate loans.

We offer both monthly and bi-weekly payment options.
Recent Go RVing studies show that, factoring in the cost of RV ownership and fuel, families can save 27-61% on vacation costs by traveling by RV, so by investing in an RV today, your family can enjoy many years of quality vacation time together -- all while saving money generally spent on airfare, hotels and restaurant meals. And the on-the-road adventures create priceless memories that will last a lifetime.
The bottom line is that if you are thinking of buying an RV, you should check financing options to maximize your purchase enjoyment. You'll be on the road enjoying your New RV or Preowned RV before you know it!