Towing
We offer complete installations of dinghy setups, from Blue Ox to Roadmaster. Setup takes about a full day and we offer package pricing on complete setups. Leave it to the experts on this task to keep you secure down the road!

Dinghy Towing
Dinghy towing or towing your vehicle behind your motorcoach with all four wheels on the ground is by far the safest and most convenient way to bring your passenger car, truck or SUV. Although no manufacturer has yet to engineer a plug-and-play setup directly from the factory, it's never been simpler to equip both dinghy and motorhome for road usage.

When safely dinghy towing there are some considerations you will want to take when setting up your towing system. Make sure there is a solid, properly designed and installed linkage between the vehicle and the RV. Your hitch receivers and tow bars must be in good working condition. Hitch receivers must be bolted in place using the receiver's hardware kit and installed per instructions. 
Watch our video on how to install your Blue Ox tow bar here. 
Towing Checklist 
Make sure the equipment is properly rated for the dinghy's weight and the gross combined weight rating
Ensure the hitch height is accurate
Check that all hitch bolts, tow-bar and baseplate fasteners are securely tightened 
Confirm that all hitch and wiring connections are secured and engaged
Check motorhome and dinghy for proper function of taillights, brakelights, and turn signals 
Check tire pressure on motorhome, dinghy, and spare tires 
Ensure the dinghy is properly set up for towing based on the instructions in your owner's manual 
Ensure appropriate fuses are pulled or the battery is disconnected if applicable 
Is My Vehicle Towable?
Click below for the latest Web Guide to Dinghy Towing, sponsored by MotorHome Magazine, that provides a selection of informative articles and a listing of new vehicles ready-made to enhance your RVing lifestyle. If your current model year is not listed below, check your owner's manual or vehicle manufacturer to ensure you can tow your vehicle without damage to the transmission.
For starters, the hard hookup between coach and car (or truck or SUV) has become an easy one-person operation: self-aligning tow bars make cinching up a breeze; with some tow-bar designs, even routing cables and wiring through hollow arms, the connection is more than easy, it's eye-pleasing. Plus, manufacturers are offering an array of accessories to help keep it that way: An RV underskirt, fitted beneath the equipment, will safeguard the dinghy vehicle and towing hardware from debris. For more ironclad protection, nearly indestructible rock guards are available that quickly attach to the tow bar and shield the dinghy from road refuse. Yet another device to aid in safe dinghy transport, supplemental braking systems have likewise evolved. Portable systems can be installed in less than an hour and even permanent installations remain unobtrusive.
Dinghy brakes may not be mandatory in some states -- yet -- but anytime you add a few tons of weight to the back of your motorhome, you really do need a way to slow it down without taxing the brakes on your coach. More than 100 passenger cars, SUVs, light trucks and hybrids that have been certified for four-wheels-down towing. The list includes many of the newest vehicles -- including a plethora in the subcompact car segment. For all-terrain fun, there are plenty of 4WD vehicles to choose from. As motorhomes continue to grow in size and stature, life on the road has never been more comfortable. A dinghy adds to that enjoyment.
On the Road Towing Tips 

Observe the speed limit for towing in the individual state or province you are traveling in 
Maintain an adequate stopping distance from the vehicle in front of you - a 5 second interval is recommended 
Avoid towing in icy or snowy weather
Pay attention to merging traffic, and be prepared to take evasive actions when necessary
Avoid making tight turns, doing so puts a lot of pressure on tow bars 
Walk around the motorhome and dinghy and inspect all connections and look for signs of issues every time you stop 
Tow Dollies
If you cannot tow your current vehicle all four on the ground and don't want to add a lube pump to the transmission or disconnect the drive shaft, the next option is a tow dolly. These get the front wheels of the towed vehicle off the ground.
There are some advantages to using a dolly: By putting a front wheel drive vehicle on a dolly you will not need a lube pump or other device to make the vehicle towable. Dollies are a great option if you intend to use it with multiple vehicles or want to time-share it with friends.
If braking is a concern, be sure to check if the manufacturer has tow dollies available with brakes.
North American Weight Limits for Towing
without Supplemental Brakes
Source: American Automobile Association
Digest of Motor Laws, 2016 Edition
WEIGHT LIMIT BY POUNDS OR OTHER RESTRICTION (SEE 'KEY')
| | | | | | | | |
| --- | --- | --- | --- | --- | --- | --- | --- |
| Alabama | 3,000 | Kentucky | 'A' | North Dakota | 'C' | Alberta | 2,000 |
| Alaska | 5,000 | Louisiana | 3,000 | Ohio | 3,000 | British Columbia | 4,400 |
| Arizona | 3,000 | Maine | 3,000 | Oklahoma | 3,000 | Manitoba | 'A' |
| Arkansas | 3,000 | Maryland | 3,000 | Oregon* | 'A' | New Brunswick | 3,000 |
| California | 1,500 | Massachusetts | 10,000 | Pennsylvania | 'C' | Newfoundland | 'A' |
| Colorado | 3,000 | Michigan | 15,000 | Rhode Island | 4,000 | Northwest Territories | 'C' |
| Connecticut | 3,000 | Minnesota | 3,000 | South Carolina | 3,000 | Nova Scotia | 4,000 |
| Delaware | 4,000 | Mississippi | 2,000 | South Dakota | 3,000 | Nunavut | 'A' |
| D.C | 3,000 | Missouri | 'B' | Tennessee | 3,000 | Ontario | 3,000 |
| Florida | 3,000 | Montana | 3,000 | Texas | 4,500 | Prince Edward Island | 3,300 |
| Georgia | 3,000 | Nebraska | 3,000 | Utah | 'A' | Quebec | 2,860 |
| Hawaii | 3,000 | Nevada | 1,500 | Vermont | 3,000 | Saskatchewan | 3,000 |
| Idaho | 1,500 | New Hampshire | 'A' | Virginia | 3,000 | Yukon Territory |  2,000 |
| Illinois | 3,000 | New Jersey | 'C' | Washington | 3,000 |   |   |
| Indiana | 3,000 | New Mexico | 3,000 | West Virginia | 3,000 |   |   |
| Iowa | 3,000 | New York | 1,000 | Wisconsin | 3,000 |   |   |
| Kansas | 'A' | North Carolina | 4,000 | Wyoming | 'A' |   |   |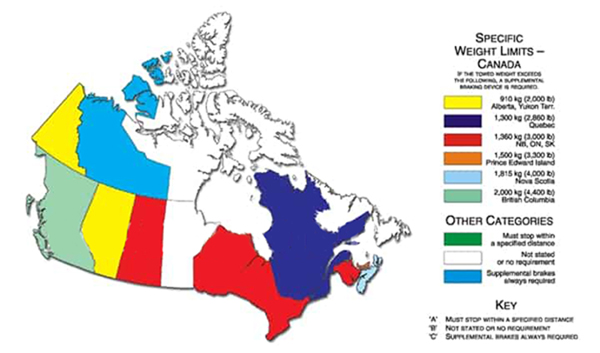 EVERY REASONABLE EFFORT WAS MADE TO VERIFY THE ACCURACY OF THIS INFORMATION; HOWEVER, LICHTSINN RV DOES NOT WARRANT ITS ACCURACY AND DISCLAIMS ALL LIABILITY FOR ANY CLAIMS OR DAMAGES WHICH MAY RESULT FROM ERRORS OR OMISSIONS.