Winegard Roadtrip T4 Satellite Antenna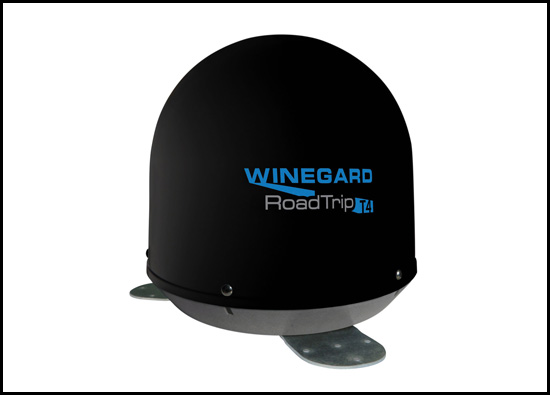 Price: $1,730.70; $2,465.70 (installed)
The RoadTrip T4 is both smaller and quieter than previous Winegard in-motion satellite antennas. This sleek, compact unit is ultra lightweight, with the smallest footprint, and requires minimal roof space. New motors and updated tracking algorithms reduce noise levels and improve tracking capabilities.
Satellite Options 
Winegard Roadtrip T4 Features:
100% Automatic - 

Fully automatic roof mounted antenna that finds satellite orbital locations making it easy to watch your favorite TV shows away from home.

Watch TV Anywhere - 

Watch LIVE programming while traveling down the road. The RoadTrip T4 in-motion satellite antenna delivers DISH, DIRECTV, and BellTV programming.

Simple Setup and Operation - 

Simple one button on/off operation. The Roadtrip T4 quickly locks on to satellites anywhere in the U.S. for reliable signal, giving you unlimited TV viewing with no data overages or buffering!

Updated Design - 

Updated design reduces noise and improves tracking to give you the ultimate TV viewing experience on the road.

Sleek and Compact Design - 

The smallest in-motion antenna. The RoadTrip T4 requires minimal roof space and no storage space.

Compatible with Dish, DirecTV and Bell TV
Find the perfect satellite for your RVing needs with our Satellite Finder Tool

Please call your Lichtsinn RV Parts or Service Consultant at 641-585-3213 to add this to your RV.