Service and Parts Guest Reviews of Lichtsinn RV
Odean and Donald from St. Louis Missouri
RV Service
---
Brenda from Iowa
RV Service
---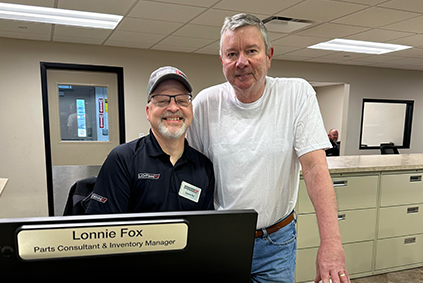 "Shout out to Lonnie! My friend, who also owns a Winnebago, said Lonnie in the parts department kept his RV on the road! Great Job Lonnie!"
Francis from Mantua, NJ
---
"If you own an RV, this is the best place to order replacement parts. They are always so professional and you get your parts in a timely manner. I can't say enough about what a good company they are to do business with." 
Connie from Rural Retreat, VA 
---
"Adam has been an amazing help to me! A thousand miles away, sight unseen and he has gotten this rookie RVer what I needed. I wish he and a Winnebago factory were closer....Thank you Adam!." 
Diane from Lewis Run, PA
---
"Just returned from Lichtsinn RV for service on my 2013 V. They did a great job as usual I added a few things at the last minute but they got everything completed. Great job by Justin and his crew." 
Dave from Newfield, NY
---
"Appreciate the courtesy everyone genuinely shares with their expertise of repairing and installing at Lichtsinn RV Service! We've experienced such great service working with Cade, Brian & Justin along with their teammates!! Leaving this weekend for an extended trip over winter with much more confidence in our rig and our skills. Bless you during this year's Thanksgiving week, thankful for all who have contributed to making our RV journey the Best for us!" 
Ed and Beth from Morris, MN
---
"A huge thanks to Brian, Brett & Cade in service for completing our appointment today which included several surprise repairs which could have blown up our 40th anniversary trip from Maine. Instead the team completed the Ekko Balmar recall (174), an LP repair, awning motor replacement and other items efficiently. Great customer service!" 
Joe and Lorraine from Cumberland, ME
---
"Hi Ron, we had our 23 Travato in for warranty work on September 5. I am not sure who the tech was that performed the service, but in addition to doing the few fixes we had, he alerted us to a potential engine issue. He noticed a tick in the engine. When we returned to Lincoln, we got in for service and they found the camshaft was worn due to failing lifters and rockers. We had not noticed the tick, so we are grateful the tech noticed the issue and alerted us. Im sure he saved us from potential breakdown and additional damage. I just wanted you to know and if you could thank the tech. Also, so good to see and be recognized by our sales rep Renae and welcomed by all the service and front line staff. It makes the trip worth the time!"
Karen and Carolyn from Lincoln, NE
---
"Lonnie I have to tell you how much I appreciate your professionalism and kindness. I just retired from my life as a BMW repair shop owner (40 years). I always stressed the importance of my employees treating our customers the way that you have treated me. Again, thank you."
Brett from Boise, ID
---
"I just ordered a part via telephone and want you to know how impressed I am with Adam. Please relay my thanks to him for the excellent service."
Tommye and Gil from Binghamton, NY
---
"I had a great experience with Brian and Anders helping me. Brian did everything he could and setting up the appointment and make sure I knew it was going on.
Anders was awesome! He walked through my issues on my RV with me. He made sure that I was getting all my problems addressed. Receive my RV back in great shape."
John from Centennial, CO
---
"I'm in the process of restoring my live in 1997 Winnebago Adventurer. She needs stuff BUT a month ago after calling and emailing numerous RV companies—I found Lichtsinn and more importantly; Lonnie Fox!!
My first mission was finding a main door lock set!! I sent an email one evening and woke up the next morning to "I need the serial number of the RV" followed later by" yes, we have that in stock " Only I will ever know what a warm and fuzzy feeling I got after a week of calls and visits to places getting " oooooh, with the age of that I don't know what to tell you" — sad feeling!!
After ordering numerous parts now and more to come I am a faithful customer and at my age, 71, it is so refreshing to have a representative of a company that not only does their job well but cares.
Thank you all for what you do but a special thanks for having Lonnie Fox!!!!!!"
Graham from Cedar Point, NC
---
"Justin is very helpful and considerate!"
Chris from Sioux Falls, SD
---
"Chris with orientation was patient, kind, informative and made us feel like no question was invalid. A natural for the position he's in."
Pam & Timothy from Desert Hot Springs, CA
---
"I have been coming to this dealership, first to purchase and later to get my Motorhome service visits and needed repairs for over 5 years. This despite the large distances needed to get here. I initially purchased in 2019 , while living in Connecticut, after finding this dealership online. Over the years my experiences elsewhere made me only want to travel back to Iowa to get the reassurance of top notch honest service and repair work, even when living full time in the RV while I traversed the continent the past 2 years. I have never come across a business where the entire staff has embraced the dedication and commitment to their customers ( their guests) that the owners Ron Lichtsinn and his wife obviously have ! It's been a pleasure dealing with everyone here . I can't give a higher recommendation to a dealership, and would encourage all to consider coming here to either purchase or repair your Winnebago products! Also check out the free available educational video library contained in their website."
Marshall from Walnut Creek, CA
---
"Good afternoon! I just want to tell yo that over the 30 some years I've had trailers, fifth wheels, and class A rigs, I've never had anyone company extend the service that you guys do and I haven't even been up to Forest City yet. In Oct. we traded for a 2016  Forza 36G. It''s been parked by my driveway all winter...now it's time to start getting it set up. The leveling system was driving me crazy...just enough different from my previous rig ...I think it was Justin who just a few minutes ago called me from my email I sent yesterday, walked me through the Forza's leveling system, and we're good to go now. I was obviously doing something out of sync. So thank you again...I'm up your way April 26 to get the hinges put on the front hood...they were off when we bought it.  We got a nice rig and it's , quite frankly, a relief to know your crew is there to take care of it going forward. Thank you again!"
Dennis from IA
---
"Order received a day early.  Thanks for great service."
Cris from Toledo, OH  
---
"Long distance orders and supplies easily provided by caring staff. My go to for Winnebago parts and advice!"
Bob from Carson, CA 
---
"It is impressive that the attitude of exceptional customer service permeates thru the whole staff. Thank you for being so dedicated to helping customers as much as possible."
Marshal from South Windsor, CT 
---
"Lichtsinn RV is definitely worth the drive from Canada. I needed some custom work done to the propane system on my 2018 Navion, and tried to find a Canadian dealer or shop here in southwestern Ontario that could do it. The earliest appointment available was Jan-Feb 2023, at a dealer 150 miles away in Smithville, which isn't an ideal time to drive anything in Canada, because of the weather. I had contacted Brian Buffington 3 years ago about this work, but then covid happened, the border closed, and everything got back burner. I decided to try him again, and he remembered me and the work we had discussed, and was able to get me in in early October 2022. We made a Fall trip of it, drove out to Forest City via the Michigan UP, which was beautiful this time of year, and dropped the Navion off with them. Half a day later, I had my new "stay longer" quick connect T installed, as well as some front end Sumo Springs I had purchased last year. Everything was on time, on schedule, and as promised. I have nothing but praise for Brian and the team at Lichtsinn RV. They know their stuff, and considering how popular and busy their service department is, they got me in long before anyone else could near my home. My thanks to Brian, honorable mention to Anders and Lonnie, and kudos to the entire service department technicians and staff for their help with this project. I am a very happy camper."
Mike from Ontario, Canada 
---
"Just a note of thanks and shout out to Justin Overland of Lichtsinn in Forest City. First of all they're first rate. Justin has been my go to tech consultant since we bought our Patty Wagon (21D) in December 2020. He always gets back to me. Recently he arranged for us to get levelers installed at HWH. As most of you know from my previous posts, the tech screwed up and pinched our wire harness. The long and short of this story is it ended well with the help of Justin. Lichtsinn is first rate. I do wish they were closer but I would choose them again."
Pat from Kemah, TX
---
"Everything was extremely efficient! Justin Overland knew every aspect of my 38Q Adventurer just by looking at it. Excellent employee!"
Stanley & Mary from Baltimore, MD
---
"I purchased my first ever Rv from Lichtsinn in 2018 and just purchased my second Travato from them two weeks ago. Their incredible service department is one of the reasons I returned and why you may want to buy an Rv there.
 After the sale you usually don't have much to do with the salesperson. Abby was my salesperson and blew that theory out the window. At every meeting she was available and present with the goal of making sure I was being given whatever information I required. Two weeks later she still is available and always willing to help. Very business like, personable, no hard sales, very professional and very hard worker (she worked very hard for some last minute details).
 Kevin handled the finance end for me. He was knowledgeable, patient and a great communicator. It's hard to say, show appreciation for such clarity and assistance throughout the entire process.
 Last, but by no means least, service. Anders for the last 4 years has put up with my never ending questions and walked me through every problem I have had in the past. I rely on his expertise and advice and have always been satisfied with the outcome. He explains things and in turn teaches me more than you can read in a manual. My last thought is when looking to purchase an Rv, you have to remember unless you are very knowledgeable in all systems, support might just be your number one priority. I was blessed this time with a trifecta; Abby, Kevin, and Anders."
Cheryl from Port Saint Lucie, FL
---
"We brought our 24D view to Lichtsinn to have another solar panel placed on the roof and to have a Weboost installed. We were more than pleased with their service. We drove 13000 miles with our new equipment with no issues. All performed as expected. In addition, I called today to get a very inexpensive replacement part. I was treated as if I was buying something of value. We live in Virginia but I will make a point of driving there if I need something done."
Marilyn from Wayers Cave, VA
---
"A huge shout out to Anders who went a second and third mile to sort through a difficult situation with my RV and carved out time on a Friday PM to get me on the road to home over the weekend….muchísimas gracias Anders and to the Lichtsinn team!"
William from Columbia, MO
---
"Parts service is excellent, special shout out to Adam Van Cleve who has been outstanding especially while we are traveling."
Bobbie from Longview, WA
---
"They are worth the drive to get there. Though I have not bought a coach from them, the parts department is unreal. You need it they have it and if they don't they can get it! Thanks to the whole crew there for all your hard work"
David from Clearwater, FL
---
"This place has amazing customer service. We live full time in our RV and one of our AC units died. While we were on the road they located a replacement unit and managed to squeeze us in to have it installed within 3 hours of us arriving in town. Brian our service advisor went above and beyond to make sure we were taken care of."
Steve from Livingston, TX
---
"Nicest RV dealership I've ever been too. They had my parts in stock."
Tom
---
"Adam Van Cleve in parts has been so helpful on several occasions that I would like to recognize his competence. He responds promptly with excellent knowledge. His support makes the distance from Lichtsinn much easier to manage."
Robert from Missoula, MT
---
"I am writing to say Thank You for hiring such a supportive staff. I am on the road with our 2013 Winnebago Tour and I needed a few nonessential parts for cosmetic repairs. I placed an order online and got a message back from Lonnie Fox before the end of the business day. After we clarified the order and the payment method, my parts were shipped out and I received them within 72 hours. Lonnie was attentive, professional and a man of his word. Thank you Lonnie and Thank You Lichtsinn for keeping us rolling!"
Raymond from Woodbury, NY
---
"Appreciate the work to get it in and your ability to look after a customer that is on the road. *Justin is a true value to your organization. He is  a great communicator and works to solve the issues and is extremely personable."
Ken from Berthoud, CO
---
"I want to thank David for his prompt action on sending the parts that I ordered.  I had been trying to order these parts through one other Winnebago dealer as well as Winnebago themselves and was unsuccessful at getting my parts.  After calling Lichtsinn RV and talking to David in parts, he not only shipped them to me but had them in my hands in two days.  Great customer service from you.  Thanks to David in Parts and Lichtsinn RV, my problems have been solved.  I will certainly order any future parts through you."
Dennis from Saint Charles, MO
---
"After returning to Iowa (from Pennsylvania) for service on my 3 year old 2019 Winnebago View 24 G, I can only rave about the continued excellent caring service this dealership provides. They have always been there for me after my purchase, and have provided regular annual service to keep the unit running at maximum comfort. I trust their honesty and workmanship! The new dealership renovations and additions, makes our stays even more comfortable. Ron and staff should be congratulated and thanked on the improvements."
Marshall from PA
---
"Thanks for all your help Lonnie! You helped me out so much & made everything effortless! Thanks again."
Leisa 
---
"I just want to say that your gentleman Adam in your parts is a wonderful person, very helpful, and you should be happy to have him employed with you. I've called before and he's very helpful and I've suggested other people called here too. So just letting you know, he's a great guy. "
Ned from Bull Valley, IL
---
"Thank you so much for your help. Your customer service is very refreshing in todays world. I hope I don't need anything like this repair from a blowout ever again but whatever I need from Winnebago will come from you. Thank you again."
Bill from Springer, OK
---
"Definitely the go to place to get parts for a Winnebago. David in parts, is professional courteous, pleasant to speak with and has an amazing demeanor. Went out of his way to help me get exactly what I needed for the best price, and I'll be calling anytime I need anything from my motorhome. I'll never look elsewhere again because I think Lichtsinn RV will have anything and everything I need at a very affordable price, and yes I believe it will always be in stock. Thank you David"
Robert from Cordova, TN
---
"Got a call Monday about the part I needed. Ordered it. It arrived Wednesday! Terrific service and the gentleman who called me was great. Would give more stars if I could."
Ruth
---
"Fastest oil change ever! Clean and efficient:  Show Room, waiting area, rests rooms!"
Mimi from Mansfield, OH
---
"I was impressed with the good communication I received before and during my appointment. That goes a long way!"
Robin from Placerville, CA
---
"I had a wonderful experience getting my WeBoost installed and fixing several minor issues."
William from Kansas City, MO
---
"We bought our Vista LX new from Lichtsinn in 2017 and have had an excellent experience since day 1. I just returned from a run out to Lichtsinn for routine service, and this was my first trip back since the initial purchase. The service experience matches the sales experience - perfect. I made an appointment in advance, they were ready when I arrived, and work on my rig began immediately. These guys are such pros. Truly a world class operation. Thank you!"
David and Cindy from Kingsland, TX
---
"Just wanted to pass along our thanks for the very efficient way our recent visit was handled. The repairs and adjustments make the Boldt a true pleasure to use and live in. We felt good when you were there to greet us as we pulled into the service bay."
Dan from Saline, MI
---
"I won't say forget the sales, but the service and parts department is absolutely the best. I won't let anyone else touch my Navion."
John from Alexandria, OH
---
"We scheduled an inspection and two minor repairs on our 2012 Navion G with Anders. Everything was done correctly, and the cost was what I expected. Professional operation and worth the trip to Forest City."
Tim from Traverse City, MI
---
"Amidy is just the nicest person.  She is so pleasant to speak to, even in just the short period of time when she answers the phone. David is so nice and funny, too. But, man, does he know what's going on!  I've been dealing with him on a $30 part, so we're not talking about thousands of dollars here, but he takes the time to make sure it's right.  He is just the best, you've got a real winner there with him. You really have great people there.  Be sure to give them both gold stars!"
James
---
"Anders was a pleasure to work with and Ben did an amazing job with not only our repairs, but the condition in which he left the coach when he was done.  We have owned 7 RVs and have visited many service centers, and this experience far surpassed the rest, not only with quality of repairs, but the condition in which their RV was left when we picked it back up. It's in the details!"
Mary from Minneapolis, MN
---
"Your customer service has been nothing less than STELLAR. Anytime I have called, there is virtually no wait, and I get to speak with Anders. He has always answered our questions patiently and completely. We were so happy we decided to buy the unit from you, and believe me, it is worth the 2 day trip up to Lichtsinn to have you service and inspect our Travato."
Sierra & Lou from Cleveland Heights, OH
---
"I called LICHTSINN RV about my Winnebago it is an old one but still in great condition and is perfect for what I use it for mostly camping and drag racing. Everyone knows that when you talk about new or newer RV's there is a lot of money involved well my warrior 25 is a 1993 and I only needed some small parts for it that I could not seem to find so I called the parts dept. and got Dave. He treated me like I had a brand new RV and was spending a lot of money and found my parts and had them shipped to me within a week I just wanted to let anybody reading this to know that LICHTSINN RV will go the extra mile even for the guy that is not spending much money and that is hard to find these days I will not hesitate to use them again."
Skip 
---
"I used this company to source parts for my RV. Over the years they have been very good at getting me the maintenance items I need. They usually are available quickly on the phone. The parts guys can always find the parts I need even though my description may be vague. They ship quickly, as they can go pick the parts at the factory. Pricing seems very fair"
Rob from Orlando, FL
---
"I worked with Barry on ordering some parts and I was so please that Barry knew exactly what he was talking about and was spot on with his information and took the time to help me despite the parts order being small. Also spoke briefly with Anders as well and was very happy with the information he gave to me."
Michael from Michigan
---
"Great Service. Staff ready and willing to help. Service department handled all issues that came up. Would shop with them again."
John from Silverdale, WA
---
"You guys are the best! Got my 1 year service and upgrades done here in Iowa again meant my decision to travel 1,000 miles to come here! Unfortunately my local dealer isn't in your league. I will be a customer for life!"
Marshall from South Windsor, CT
---
"Everyone I dealt with on my service trip was exceptional. Justin, David, Brandon and everyone else who had a smile on their face and a "hello." As always, Justin is just so great at his job and makes everything so nice and easy."
Aletha from Greenville, TX
---
"I wanted to let you know that I have been extremely happy with the service I have received from your firm and specifically David Straw.  The reason I decided to get my parts through your firm is that LaMesa RV here in Davis, CA is unresponsive and slow! Keep up the good work."
Craig from Davis, CA
---
"I wanted to give a shoutout to Anders Bartleson at Lichtsinn RV. When we got back to California from picking up our 21VJ at Lichtsinn I noticed the Truma hot water heater compartment door was cracked. I emailed Lichtsinn service. I received a response from Anders. He told me to send him the door. I sent Anders the compartment door. In about two weeks I received a new door painted to match our View. If you need service at Lichtsinn look up Anders Bartleson. He will take care of you."
Gordon from Fresno, CA
---
"Just a quick note to say how much we appreciate you.  We bought our rig new from Lichtsinn in 2017, and have been very happy with the entire experience including PARTS since day 1.  We used the parts department again recently and received quick professional service.  Thanks for always having what we need, always being friendly and patient, and most of all treating us like you appreciate our business.  Its what keeps us coming back.  You guys are the best!"
David & Cindy from Kingsland, TX
---
"Lichtsinn RV has stellar customer service from order and beyond. We were boondocking this week when suddenly all of our power shut off. I called Lichtsinn service. Brian not only told us how to fix our problem but explained the why of how the related items work and took time to answer my question about solar charging our batteries. We are so thankful for all of the help we have received from Lichtsinn, from Stacy in sales to Brian, Justin, and Anders in Service. They have helped us newbies tremendously."
Ann from Peoria, AZ
---
"Been a rough day.. we finally were ready to depart Forest City and the van greeted me with the "Service Required Do Not Shift Gears" message when I started it up. It would not allow me to put it in drive, reverse or even neutral. The people at Lichtsinn were awesome, they called a tech from Winnebago, the tech spent an hour or two and was unable to resolve- the Lichtsinn service guys were on the phone with Mercedes initiating a roadside assistance claim on my behalf, got the tow truck headed our way. They then had a crew out to winterize my van since it's pretty darn cold and not clear how long it will be at MB for repairs. Lichtsinn gave me back the loaner car to drive- the service guy and salesman called me several times genuinely concerned about how it was going. They could have easily just said "it's a Mercedes issue, good luck". But they have been with me doing everything they can to help work the problem. I'm bummed about the issues with the van- but I am grateful for the way Lichtsinn stepped up to help us out when we were pretty much blindsided with a serious issue. I'll keep the group updated on how this works out w/ MB. Lichtsinn gets a 11 out of 10 for supporting us when things went bad."
Bill from Hixson, TN
---
"I've used you guys a lot for my parts you are the best (Just Say'n)."
Dave 
---
"Recently took my 2017 Trend 23L to Lichtsinn RV in Forest City Iowa, to have the internal fuel gauge of the LP Tank replaced. Appointment was scheduled for 8 am, so I stayed in the lot the night before because it is an almost 5-hour drive from where I live in Wisconsin. They have a place you can plugin and it was very convenient. I tried to find a closer Winnebago dealer who would do this repair however the places I talked to didn't seem to know what I was talking about when I described my problem. I had heard a lot of good things about Lichtsinn so I made the trek across two states to get there. The Service department was very professional and Justin Overland checked me in right on time and they got to work. In order to replace an internal gauge on an LP tank, you have to first remove the tank from the RV. This was why I didn't want to do it myself. It took a good three hours to do the work and that's with having to replace the regulator.

I got a chance to meet one of the sales staff, Deanna Schutz who I talked with several times on the phone to answer questions about the new View. If your in need of a new or used unit, she would be the one to call.

They had me back on the road by 1:30 pm. I would highly recommend this RV dealership, they will take care of what ever you need."
Tony from Mikana, WI 
---
"As always ... the right parts at a very good price ... quickly shipped ... Parts people on the phone or email the best ... keeping my 1993 Warrior 25RU on the road ... Thanks again!" 
---
"Our technician at Lichtsinn was phenomenal. He worked through all aspects of our concerns and made certain they were resolved to our satisfaction and Winnebago's product intent. He went so far to remove and rehang a cabinet to ensure it was square and avoid unintended or necessary alterations. He was thorough and cleaned up the coach when complete. Because of tremendous efforts Lichtsinn has put into training their resources and the pleasure we have of the coach we expect, we will highly advertise Winnebago products and Lichtsinn as a model for retail support." 
Gary from Aurora, CO
---
"Justin Overland, the Service Consultant at Lichtsinn RV, was very responsive and efficient in processing my claim for recovery of expenses for warranty repair. Thanks, Justin!" 
James
---
"Adam, Thank you for the great service!" 
Marco from Watchung, NJ
---
"I work for a RV repair facility so I have to shop for parts every day. Lichtsinn RV makes it easy for me with their 3D exploded views of every Winnebago part I need. (I only wish all the other parts facilities made it this easy!) Their staff is incredibly knowledgeable, professional, they keep you updated at every turn, and exchanges have been a breeze. I can honestly say, Lichtsinn RV truly is AS GOOD AS IT GETS!"
Patty from Lancaster, CA
---
"Just wanted to Thank Lonnie for great service. We got the new One Place monitor in about 3 days after ordering, installed it this morning. Problem fixed."
Gale from China Township, MI 
---
"Best service department ever! Need a new TV antenna called Friday afternoon had it ready for pickup on Saturday."
Sandy from Twin Lakes, MN 
---
"I was having difficulties with one of my RVs and I called your service area and spoke with Anders. And I just wanted to tell you what a fine upstanding person he is, he called me back twice. And I am so pleased with what you did for me just by giving me that reassurance. Again, my cousin and uncle have both bought RVs from you out there and they said to call you because you're the best in the country. And I surely do agree with them. I appreciate what Anders what he did for me helping me and advising me with my problem."
Chip from Wyoming 
---
"I appreciated the service received, recently had glass go bad on my coach and had a terrible time finding replacement glass. I am so appreciative of Adam's professionalism and kindness in not only getting the glass found, but in arranging it to be shipped.  Thank you for your great service."
Harry from Johnson City, TN
---
"I was having a challenge finding a washer fluid reservoir for my 18 year old Winnebago. David and the team made it happen with friendly and efficient service. They found the part that was fairly priced and shipped it out the same day. We can't thank them enough." 
James from Davenport, FL
---
"Lichtsinn RV always performs better than expected and provides more than asked for."
Richard from Kewaunee, WI 
---
"I would recommend Lichtsinn RV highly. Winnebago is fortunate that they are such good representatives of your product. I appreciate their knowledge and abilities to fix our motorhome the first time."
Theodore from North Liberty, IA
---
"Phenomenal customer service, work done same day, comfortable waiting area, helpful staff, parts on hand or close by with factory down the road, highly skilled techs."
John from Danbury, WI 
---
"Lichtsinn reps know their products inside out."
Judy from Jackson, NH
---
"Just spoke with David who helped me with parts for my 2013 Winnebago Tour. The man is like a computer. He knew exactly what I needed and made my experience a piece of cake. The man is a true asset to your company."
Robert from Newaygo, MI
---
"We want to say a big "thank you" and are so grateful for receiving the fitting windscreen. It's like getting a Christmas present before Christmas. In particular a big "thanks" to David for being so helpful and patient with us. We hope should we need parts for our motorhome that we may contact you again. Great appreciation for your effort for us."
Birgit from Leobersdor, Austria
---
"I have worked with your parts team in the past and had the opportunity today to work with both the parts and service departments today. I want to let you know how polite, professional, and helpful everyone I have spoke to is even if just providing me information. I also watch your videos a lot and find them very helpful."
Rick from New Market, MD
---
"When ever we need parts for our 2015 Tour, Lichtsinn is the only place I call and they ship to me wherever we are. To say they have the BEST service & people would be an understatement. I just wish that every RV dealer was this good!"
Paul from East Lansing, MI
---
"I wanted to Thank You for the awesome experience with my parts order through your parts department with Lonnie Fox. Five stars all around for the complete ordering process. I hope your aware of what a Great Asset Lonnie is. I will come back for All my Winnebago parts in the future, and I will surely pass it onto friends looking for excellent help, with a knowledgeable professional, to help with their coach issues as well. Thanks again for the pleasant experience and all around easy process as well as super fast process from start to end. Thanks to Lonnie as well for correcting my wrong part numbers to the correct parts for my RV. I wanted you to know how Awesome your employee is and I will definitely return due to that fact. Thank you again."
Laura from Sparks, NV
---
"Brad is an asset to Lichtsinns.  I am now requesting him to do all work on our coach. He is highly motivated, polite, knowledgeable, and a great technician.  Brad goes above and beyond expectations. We are very pleased with our service at Lichtsinns.  Thanks for all you do for the community and your customers."
Nancy and Steve from Highland Village, TX
---
"So my visit to Lichtsinn was outstanding. My service writer Justin was excellent and very customer service oriented. My Tour AD was diagnosed and repaired in a very timely manner considering the problems I was having. Thank you to everyone at Lichtsinn for the friendly hospitality. We will definitely be back when the time comes for service or repairs."
Mike from Sturgeon Bay, WI
---
"I am in my THIRD year of being a first time RV owner with my 2017 Travato.  I had ZERO experience with RVing and I feel I must share the most important reason for my enjoyment and satisfaction with my 1st RV.  While the sales team have been tremendous, it is primarily Anders Bartleson that played the key role in my RV success!  Anders was always there to answer my questions about the Travato and help me troubleshoot (and in many cases solve!) issues that occurred.  If he was unable to get me on the service schedule quickly he would offer suggestions on how I could work with any issue until the Lichtsinn service team could correct it.  He was always pleasant and patient.  I have worked in customer service in my past work life and I know how trying it can it on the service team.  But Anders never showed any frustration whatsoever.  He is the one person I hold truly accountable for my RV enjoyment and success. Just wanted to take a moment to finally reach out and extend my thanks to you for having such a tremendous individual representing Lichtsinn.  It is a major reason I will come back to you when I am ready to acquire another RV!"
Tracy from Janesville, IA
---
"I just wanted to let you know how happy I am with the service that I received from the parts department.  Lonnie answered my phone call, I was in need of a part fast.  He located the part and got it shipped overnight to me to basically save the day for us.  He was very friendly and I really appreciate the effort he put in to get the part out to us late in the afternoon so we could have it by 10:30 the next morning.  I hope everyone there appreciates what an asset he is to your company.  In general, you guys have always been helpful and it's great that you have had the parts we have needed.  I just felt that Lonnie really made the extra effort and I wanted you all to know how much I appreciate it. We will definitely continue to order parts from your company and will recommend you to our friends."
Cherrie from Charlotte, NC
---
"I just want to thank the whole team at Lichtsinn, you guys did more for my Horizon than any of the RV shops near me. I want to especially thank Adam Van Cleve and Anders Bartleson, two very knowledgeable and helpful RV people."
Kim from South Dakota 
---
"Brad did an amazing job with our custom solar installation and all the other mods he did. Very good woodworking as well an all the various add-ons. Truly great craftsmanship. The walk-through by Brad was very thorough and comprehensive, and very much appreciated!"
Tom from Saint Michaels, MD
---
"Adam Van Cleve, thank you so much for acquiring the parts needed for my 2011 Winnebago Itasca Ellipse.  It is refreshing to know that there are still proud and honest people to assist others after all attempts to repair our motorhome seem to have failed.  Yourself and dealership should be very proud of services provided. Thank you so much. Very satisfied customer!"
Ron from Uniontown, PA
---
"We knew we could depend on Lichtsinn RV to help us if we had issues and your service was the main reason we purchased from you!"
Julie and Tom from Hanna City, IL
---
"Very Professional – great experience. Brian Buffington was very helpful! Whole store was friendly and accommodating, especially for my wife who is disabled."
David from Valdosta, GA
---
"Great Customer Service and extensive parts available at a great cost."
Dustin from Richfield, MN
---
"My husband and I travel the country in our Winnebago Tour. Whenever we need a part, we call and have it sent. The service department is always helpful and quick to respond. Lonnie received the message my husband left over the weekend about a needed part, checked availability and price, and called us back first thing in the morning. If we buy another Winnebago, we will definitely buy it from Lichtsinn."
Nancy
---
"I reached out earlier this week to inquire about HWH levelers and was directed toward Justin Overland. I have never spoken to anyone on the phone that sounded as pleasant and accommodating as Justin. He patiently gathered my information, contacted HWH and sent me possible dates for installation. Before I had a chance to confirm my choice, he sent an update that had a couple dates that were even better. From start to finish it was truly a pleasure to do business with him. Thank you."
David from Ankeny, IA
---
"Given all the stories about service issues across the RV industry why and how are some facilities able to get it right? I phoned Lichtsinn RV for an appointment a month or so ago. Showed up the night before. Parked in their lot with an electrical hookup. Gave them the RV at 8:00 AM. Long list of things to check and a few repair items. Install additional solar panel, oil change and generator service. Got the keys to the courtesy car. Went out for breakfast. Ran some errands. Work was done by 4:00 PM. Paid the bill and on our way home."
John from Alexandria, OH
---
"Thanks to the excellent service department. They pulled off 2 miracles in 2 days for us. Saved our trip and probably our marriage. Special thanks to the patient Anders & Justin." 
Eph and Wendy from Windermere, FL
---
"David, we received our "parts" already. You're the best, thank you for helping us so promptly."
John from Long Lake, MN
---
"Thank You - Home Safely Ron, Reed, Justin! We wanted to thank you for the great experience and all of the work that you and your teams did when we took delivery of our new Winnebago View. You really live up to your advertising and that is a refreshing thing in today's business world. Especially in the RV Sales and Service sector where too many businesses have no idea of good customer service and what building relationships is all about. So thank you for all you have done. "
David and Janet from Little Elm, TX
---
"David in parts was fantastic. We are so grateful for Lichtsinn's remarkable service. Thank you!"
Ken from Snowville, UT
---
"I just want to thank you David, for your excellent and timely service concerning my small lightbulb order. I put a lot of energy into trying to find those darn festoons and one of my forum searches led me to you luckily. You are an outstanding service provider and a very pleasant personality to boot."
Jo Ann from Seabeck, WA
---
"Thanks so very much for your prompt and professional response to my order from California. I was in need for a new cover for my Itasca Navion and amazingly received it at my home in CA the next day after my call to you. I also received the new door latch for the TV door in our kitchen and replacement parts for the bathroom within two days. We have already replaced the kitchen cabinet door latch and replaced the handles in the bathroom that had tarnished and could not be cleaned. Because of your prompt assistance, we are good to go for our next adventure and the Navion is looking great inside and outside. Thanks again for your prompt response to my needs. I will be sure to pass this story along to other Winnebago owners."
Peggy from San Luis Obispo, CA
---
"This is my first order with Lichtsinn RV, even though it's a small order I'm very impressed with the service and I'm sure the service is as if it was a big order. Thanks for people like you (David), your follow up was excellent your company is lucky to have someone that cares and is knowledgeable of your job. KUDOS to you and I'm sure I'll be ordering again excellent service. Thank you!"
Orville from Winooski, VT
---
"When I brought my RV up to the Winnebago factory service center a couple weeks ago they were unable to give me an appointment until late September, that wasn't good enough for me. I decided to drive about a mile north to Lichtsinn RV. Fortunately they had a last minute cancellation for a service appointment, so they were able to fit my RV in last week. I was very pleased with the professionalism, knowledge and service from everyone I came in contact with. When I picked up my RV yesterday I was very happy to find every issue had been fixed. I can't thank Lichtsinn RV enough."
Tony from Granite City, IL
---
"As first time RV owners, we can't compare Lichtsinn RV to any other dealer, but I can say this. If car dealers were half as courteous and knowledgeable about their products as Lichtsinn RV was about theirs, it would make car buying a lot more pleasant. Reed was our salesman and was very courteous and helpful in introducing us to, and showing us around the Vista LX we purchased. The whole process went off smoothly. The young man that gave us the orientation was terrific and very practical in his explanation of the different systems and gave us excellent tips on maintenance. After the orientation, he helped us pick up a few basics that he knew we would need on our first outing. We were also introduced to Anders in service who was also most kind. Nice store, nice people, good deal. What more could you ask for? Thanks for all you did to make our first purchase a pleasant experience."
Paul and Cindy from Cross Plains, WI
---
"Brian Buffington met us outside promptly for our 7:30 appointment! Ron rushed to open the door as we entered the dealership to find the customer lounge. Stacy offered to get us a car if we wanted to go get some lunch while we waited. And every staff member we encountered greeted us with a friendly smile. We watched all the activity since we arrived Tuesday afternoon and we are truly in awe! You all are amazing people and the dealership ... well, there's no doubt in our mind that it's tops in the nation - a first class operation! Second, and more importantly .... a huge thank you to you, Luke, and any other service tech(s) who worked on our coach."
Larry and Paula from Yankton, SD
---
"Quick note of praise for Anders. He helped us work out numerous bugs in our coach that otherwise would have kept us off the road for days. He is very responsive and always provides useful tips. Of all the reasons you offered to purchase from Lichtsinn RV the service adviser support has been the most invaluable."
Jon and Becky from Verona, WI
---
"Orientation was the bomb, Brad in service went above and beyond! Jason in sales and Brandon in the business office were great!" 
Brian and Daneen from Austin, MN
---
"The Service team Justin, Brian, and Anders are the absolute best. No matter what question I have, they all take the time and help me understand the solutions. i would highly recommend Lichtsinn RV to anyone looking to buy a Used or New RV." 
Michele from Spicer, MN
---
"I've been working with Justin Overland since we purchased our 2017 View, a year and a half ago. He is always pleasant and  has taken care of every service need I've had including working with my insurance company on the damage caused by the hail storm.  My sister Nancy and her husband Ken just had their 2018 View in for some warranty work the other day and had the same experience with Justin. 

This is the email I sent to Justin: Thank you for taking such good care of my sister Nancy and her husband Ken the other day. We drove together to Laughlin, Nevada and hung out for a week with two of my brothers before they drove to Iowa. I talked to her today and Nancy said you made sure all the repair items were fixed and everything was working when they left. She said your a great guy and it was a pleasant experience, their both pretty happy with how it turned out. See you on the way back in the spring for the doors and Sumo springs."
Frank from Coon Rapids, MN
---
"I scheduled an appointment through Brian Buffington to have HWH Levelers installed on this unit. We arrived on September 28th for our appointment the following morning. The service team was ready to go early that day and we were provided a loaner car to see some of Forest City. This in itself was remarkable. Never have I experienced a dealership offering loaner vehicles for its customers. Additionally, the customer waiting room was fantastic, especially allowing pets to accompany their owners, but then again who owns who. 

The motorhome was ready around 2:00pm and Luke the service technician went through the operation of the levelers. I appreciated his attention to detail even though I have had them on previous diesel coaches. By the way, they have worked flawlessly on our return trip home.

Again, Brian, Luke and the entire service team is to be commended on their professionalism and attention to the customer. In all my years of motorhome ownership, I have never had an experience as positive as this. I wish all RV dealerships took this positive approach to working with customers.

Thank you again for creating a business atmosphere that promotes such a positive experience for its customers."
Richard from Tucson, AZ
---
"You guys did it one more time yesterday. My gas springs showed up before 10am. Delivery time was exceptional. By the early afternoon I was enjoying coffee on the patio watching all my basement doors stay open without bag clips. I ordered unrelated items from another company earlier on the same day and have yet to receive them. Again - good job."
John from Amherst, NY
---
"We just concluded a purchase of a Grand Tour and give a big thumbs up to all the Lichtsinn personnel involved. I had been talking with Reed Burkholder off and on for 3 years as we anticipated our next RV and he was always helpful and forthcoming with information. We were able to work out all purchase and trade details over the phone before traveling from Tennessee to Forest City. Dan Helgeson was our advocate in securing favorable financing and in working out the documentation details required. I spent several days on-site before taking delivery and then a few afterwards as we moved from one coach to the other. Hanna Lunning stepped in when Reed was away to facilitate the delivery and further smooth the process. Also, thanks to Justin Overland in the service department for his continuing help after the sale. I anticipate coming back to Lichtsinn for annual service."
Steve from Signal Mountain, TN
---
"We received exceptional service from Kurt Gabrielson in your parts department. Kurt went above and beyond to help us get our Navion sold. The RV dealership in St. Louis had our motorhome for 20 days and did not know what was wrong with the propane system in the Navion.

I called Kurt as I had ordered other parts for our Navion from him and knew he was knowledgeable and extremely helpful. Kurt was just a phone call away to lend his expertise by sending schematics and suggestions.  He also called us multiple times just to check on our progress even though we did not order any parts from him.  He truly is a genuine nice guy who wanted to help us in any way he could to get our coach sold!

We finally brought it home and my son was able to troubleshoot and solve the problem but Kurt was by our side via phone every step of the way!  Kudos to you for employing such a dedicated caring person!

I will recommend Kurt and your dealership to anyone who needs expertise in the RV parts area."
Yvonne from O'Fallon, MO
---
"I want to send a big thank you to Anders and the rest of the team who performed warranty work on my 2017 View 24G. I continue to be impressed with the professionalism and outstanding customer service. Problems happen and no one likes it when they do but poor service only makes things worse. Not the case here. Thanks team Lichtsinn!"
Peter from Rochester, MN
---
"Some of the nicest, polite crew you will ever meet. The concerns we had were taken care of promptly and in a very professional manner. This is our second Motor Home, our 1st was an Itasca Navion in which we loved but we needed more room. Traded up to a Winnebago Sightseer 33C, we now love that. I'm 6' 4" tall so the queen bed fits perfect. From sales, to orientation, to maintenance desk, to the service department, 5 stars from us. I should tell you we bought this RV over the phone from just watching the videos, thanks Reed. We will return again and thanks for making our experience stress free."
Jim and Kim from Chetek, WI
---
"I hope I do not need too many parts, but if I do, I will be calling you first. The service from on the phone to getting the part in two days was great. Thanks again."
Ed from Mt. Airey, NC
---
"Started with a Winnebago and went to another, so called, "higher quality" brand from another dealer...big mistake. For price and quality, you can't beat Lichtsinn and Winnebago. The sales, management, service, and parts staff are top notch. Lichtsinn made the buying experience very easy and stress free and exceeded my expectations!"
Kurt from LaPorte City, IA
---
"I recently purchased a Minnie Winnie 22M from Lichtsinn and it was a great experience! Special thanks to Jason, Brandon, Luke, Justin and Hannah... as well as anyone else I may have interacted with when I was there... Everyone I met was knowledgeable, professional and very friendly. These guys put customer service first!"
Justin from Ten Mile, TN
---
"A few weeks ago I purchased a 2018 59G Travato and I would like to express my appreciation by recognizing five employees. First, I need to say that if it wasn't for Nicole Lovik-Blaser's professionalism and patience I would had never purchased a Travato. Nicole was the playmaker and after several phone conversations she had me talk to Dan, in Finance on the phone.  It was after one phone call with Dan that I determined he was really a knowledgeable man. Dan patiently worked through financing, insurance and warranty programs with me. Thus, after working with Nicole and Dan I decided to come from New Jersey to purchase my Travato from Lichtsinn RV in Iowa.

Upon my arrival I was picked up by a very friendly driver at the airport who made a two hour drive to Forest City seem like only 60 minutes. Next, I met Nicole who walked me to my Travato. Then she introduced me to her son, had me meet the Sales Manager Hannah Lunning, arranged for a courtesy car and gave me directions to the nearest hotel and restaurant. By the way, I had a great evening in Forest City and found the people to be very friendly.  

The following morning I drove up to the dealership and saw my Travato out front. Nicole introduced me to Brett, a service technician. Brett gave me a two hour orientation and was very patient, knowledgeable and professional. Brett introduced me to Anders, my service consultant. Anders gave me his business card, answered some additional questions and informed me that he was my go-to guy if I ever had any problems or questions. Frankly, Anders made me feel comfortable knowing that I had someone to call. I then met with Nicole again and she brought me to Dan's office to finalize the purchase of my Travato. Nicole greeted me afterwards and congratulated me. After spending the night in your lot with other RV owners I headed back to NJ. A two day trip back home turned into three days since I wanted to break in my Travato correctly, not exceeding 60 miles per hour.

In closing, I commend Lichtsinn RV on their business program and their employees professionalism. Also, I would like to say thank you, to everyone who made my experience in purchasing my Travato. By the way, I named my Travato "KJ" after my kids, Kristin and Joseph. Also, I'm happy to report I am getting along well with KJ but KJ could never replace my kids who now live in North Carolina and Florida. However, I'm hoping KJ is going to make my trips to see them more enjoyable."
Gerry from Lincroft, NJ
---
"I am officially no longer a wannabee. I flew to Minneapolis last Tuesday (May 16th)and was shuttled to Forest City, Iowa by Larry. We were at Lichtsinn by 1:00. My tech was Brett and he did a very thorough job going over all of the systems. Of course, even with taking notes, I promptly forgot a lot. I got to spend time with Brandon Mondt (Business Manager aka the money guy), Hanna (not sure…maybe Nicole's boss) and Anders Bartleson (Service Consultant) he was very helpful and will be my go-to-guy when I have a question. Lastly I can't say enough about Nicole Blaser. Nicole was so pleasant to deal with and always going the extra step to make sure everything was taken care of. I was rushing because Colorado was having a snow storm due in on Thursday night…that I forgot to take pics at Lichtsinn. Well the snow storm came in early and hit while I was driving in. Have I said yet how much I love my G. As I was driving the screen, where the speedometer is, said icy roads. I looked and the temp outside was 37 and it was raining. As I laughed at the silly thing, there was suddenly 3 inches of ice on the road and multiple cars in ditches. Yes one of Colorado's hail/sleet storms. We made it just fine, thanks to the warning. Has anyone else had this happen? I think my Travato's name is Lucy…she's a girl, red, and makes me smile...the name is still a work in progress..."
Lannie from Colorado Springs, CO
---
"Didn't buy a Winnebago from these fine folks...bought my 'dream come true' 27' International Serenity Airstream that just happened to be sitting on the lot the day I stopped by on a whim! Stacy was a delight to work with. Brandon started the ball rolling, but kudos also goes to my USBank banker who was fantastic in creatively financing a 'used' Airstream that didn't follow strict NADA pricing norms. Brian made sure I got the right weight distributing hitch and even helped install it...and finally, thanks to Travis for the thorough walkthrough and basics of RVing! It was, overall, an easy transaction...and a fairly unique one in that your typical sale does not involve a beautiful silver bullet. Thanks for helping me start my adventures...I'll stay in touch!"
Pamela from Mason City, IA
---
"When we started our search, I was sure that I would buy locally in NY, but after communicating with Stacy Anderson many times and understanding all the potential benefits of Lichtsinn we changed our mind. As promised by Stacy and Dan, the long distance transaction went very smooth. We flew to Minneapolis and Lichtsinn driver picked us up and brought us to Lichtsinn and we were given a car to use while in the area.

That afternoon Mark gave us a 3 1/2 hour orientation and was very patient answering all our questions. We stayed overnight the first night and became familiar with our new View motorhome before driving home. Before we left, Stacy setup a tour of the Winnebago factory which increased our belief in the quality of the motorhome.

We drove over 1,400 miles on the trip home, taking care to break in the Mercedes Diesel engine as directed. We had one issue with the stabilizer alarm and a quick call to the service department pointed me in the right direction to take care of the problem. (Thank You Brian) Since being home we had a couple minor issues that Anders solved quickly. Thank you to everyone at Lichtsinn for making this purchase a great experience."
Tom and Becky from Scotia, NY
---
"We have really enjoyed our Rialta. We have traveled all over the U.S. and even to Canada and Alaska. The Rialta has come in handy since our children and grandchildren live across the country. I wanted to tell you that Lonnie and David in the parts department have been super. They have helped me with parts over the years, even when substitutions or modifications had to be done. They really know their stuff.

Lichtsinn's is a first class operation, and it's so nice that the company is in for the long haul and treats their customers so well. I was in Forest City back in November, and wanted to see your new facility, but could not stop by, as I was trying to outrun an ice storm. But I will stop by next time I am through that area.

I wanted to tell you that I have recommended your company to people over the years, and assure you that I will be checking with you first if we ever decide to buy another RV. Tell your crew that providing first class service really does make a difference. I hear your company name mentioned all the time. "
Norman from Rolla, MO
---
"Thank you to David Straw, needed a drawer slide for my 2017 Vista LX 30T. I had no part #, David located it from my description and said it "would go in the mail this (5/03) afternoon." To my surprise it arrived at 11:00 am CDT on 5/05. I am very impressed my the excellent response, thank you again. Camping World (where I bought the motor home) took 45 minutes to figure out the proper part # and the price was 50% higher. Am looking to upgrade to a diesel class A, will be talking to you guys. "
Parts Guest Feedback
---
"Lichtsinn RV team was friendly, knowledgeable, polite and addressed all our concerns and needs. I never felt pressured to buy anything but spent around another $10K on various things. I am particularly glad that I added the automatic leveling system. The time Brad spent showing us the RV and how to operate everything was very helpful and his advice prompted our decision to by the automatic leveler which he and other technicians installed right away. "
Dave and Vicki from Sandy, UT
---
"Returned to Lichtsinn RV for routine checkup after very positive experience with purchase of new ERA 4 months ago. Met by Anders Bartleson, Service Consultant, who reviewed my maintenance list + a few new items he was not expecting. Inspite of a day and a half of work, he finished everything of importance by closing. These folks are amazing and I will drive back another 1,000 miles whenever I want the best!"
David from Columbus, NC
---
"Exceeded expectations in all respects! Certainly the most satisfying vehicle purchase ever. Ron Lichtsinn and the entire staff demonstrated their commitment to customer (or "guest" as they say") satisfaction at every contact. From my first phone contact with salesman, Reed Burkholder, he set the tone of responsiveness, honesty, and service. Lichtsinn RV was in a whole different league from the dealers closer to home. I admit we did have some hesitation about flying 1/2 way across the US to pick up our Winnebago View and drive it back to Connecticut. We are so very happy we did.

The pricing was competitive and the service had been incredible. Everything was scheduled at our convenience and they accommodated some needed changes. After an early morning flight from New York, we were picked up at the airport and driven 2 hours back to Lichtsinn. Once there, Reed started the process for us. Brett Torkelson, a service tech, spent hours with us going thru the demo. After we finished the demo, we were able to park our new RV and plug in to on site power for our first night. We were given use of a courtesy car while our RV remained parked at Lichtsinn. The next day we had more questions and a few punch list items...all given prompt attention. Our Service Consultant, Justin Overland was consistently patient and helpful with our many questions and concerns. Overall, an awesome experience. Our appreciation to the fine folks at Lichtsinn RV for our happy entry in RV travels. (And a special note of appreciation to Ron Lichtsinn, who undoubtedly sets the standards of customer service and supports his staff in providing it.)"
Michael from Newtown, CT
---
"We live in Florida so we had plenty of dealers to choose from, but we soon discovered that the dealer for us was 1600 miles away! Lichtsinn RV's reputation is well deserved. From our first call, to Casey, until we drove away with our Winnebago View, our decision was confirmed. Casey guided us effortlessly through the whole process. We learned so much from our four hour orientation with Mark. We still have so much to learn. That's another reason why we feel very fortunate to be dealing with Lichtsinn RV. Since our journey back to Florida we have called Justin Overland, service consultant, many times. Like everyone we have met at Lichtsinn RV, he is extremely patient and very pleasant. Traveling is easy for us, knowing Justin, or another friend, is a call away! We have 6,000 miles on our coach....our miles. We left Iowa with 35 miles on our beautiful Winnebago View!"
Dave and Jennifer from Punta Gorda, FL
---
"The grabber latches I ordered on Mon, and u shipped on Tuesday arrived today (Thursday).Like totally awesome!!!!!!!!"
Patrick from Gainesville, FL
---
"Just wanted to say thank you for shipping the rubber antenna. Most businesses wouldn't even bother to search for such a cheap part, let alone ship it. You are now my #1 RV parts supplier. Congratulations for your commitment to customer satisfaction and thanks again."
Renato from Coral Springs, FL
---
"Stacy, Dan, Anders and the entire Lichtsinn staff are knowledgeable, friendly, prompt, and courteous. Our family has a history with Lichtsinn Motors and have found them to consistently provide excellent service. We will not hesitate to continue our business relationship with them in the future."
Bruce from Mapleton, MN
---
"Our salesman Reed, financing advisor Hannah, service rep Anders, service technician Brett and owner Ron all greeted us like a homecoming - "Welcome Home!". During our stay at the dealership we were given a loaner car which was very helpful."
"We had an excellent orientation with Brett. He was very patient with our newbie questions and was thorough when going over the details of our new RV."
Janet and Rachel from Davis, IL
---
"I was passing through Iowa, when my wife called, and told me I received a Recall Notice. I stopped in at Lichtsinn, and asked about it. They did the recall right there. Only took an hour, and I was back on the road."
Jim from Scranton, PA
---
"Customer Service at Lichtsinn is very well executed in sales, service, finance and all other facets. This is a dealer that understands that the customer comes first -- and that that will result in successful sales. The friendly people are a bonus!

We look forward to a continued service relationship with Lichtsinn RV!"
Mike and Carolyn from Des Moines, IA
---
"Brian and his crew fixed everything on our list quickly and perfectly. This was more than we had expected as we only had one day. The rig inside was cleaned perfectly from their activities Thanks to everyone.."
Gene and Barb from Bishop, GA
---
"What a pleasant surprise to have a person answer the phone when I called to order parts! A real live person answered, took my order, and worked with me over the phone to figure out the part number of an additional part we needed. I wish I had gotten his name. He was very helpful, patient, knowledgeable, and just plain nice! I've ordered parts from Lichtsinn online before, so I know they will be here in a timely manner and that they will be the right parts.."
Sherry from Cresson, TX
---
"Expressing appreciation to the staff for kind attention shown at my recent service appointment. Thank you for the respect and tolerance for all concerns and questions, no matter how small! Wonderful to be able to stay on-site when coming for sales or service at your facility. View 24J, all the way!!."
Anne from Iowa
---
"The sales and technician staff at Lichtsinn RV were so helpful to us as first-time-RV buyers. We traveled there to research our purchase for many reasons. The exact motor home we wanted was available there. The one-on-one training and complimentary overnight trial run right on Lichtsinn's property was a benefit that we highly valued. The next morning the technicians added follow-up support to the fulsome training we received the previous day to respond to question after our one night experience. But something I have valued beyond those things that one could say you should expect upon the purchase of a motor home, is the patient and expert responses to my questions that have come during or after a new travel experience. They also helped link us to local experts & service providers for our Era. I am proud to be a Lichtsinn customer and recommend them to others. Special thanks go to Reed Burkholder and the technicians who have helped this newcomer to the RV way of life. We are now ready to head out on our first cross country jaunt.."
Nancy Thompson, IA
---
"These people are awesome there service guys really go the extra mile to get what you need thanks guys keep up the good work"
Jonathon from Minnesota
---
---
"I wanted to take another opportunity to tell you, Joshua, Anders, Brian and the entire service staff how much I appreciate the extra service you have given me since I purchased my coach 6 months ago. Everything has been appreciated – you all have been wonderful."
Jane - Beaverton, Oregon
---
"Chris, THANK YOU! You really went above and beyond running down to WGO to grab the motor before they closed to get it overnighted. GREATLY APPRECIATED!!"
Ted - Brooksville, Florida
---
"While there are many places closer than our 1,340 mile round trip, there are none with the expertise, professionalism and warmth we were treated to at Lichtsinn RV."
Dan and Geri - Saline, Michigan
---
"Once again, I am indebted to David Straw, (RV Parts) of your company. We discovered on Friday, May 27th, that our rear air conditioner had gone out. The local RV Dealer said they would need 10-12 days to get the part needed to fix it. On Saturday morning, I sent out a "help" e-mail detailing my problem. I did not expect to hear anything back until sometime Tuesday, Monday being a holiday. To my surprise, I heard back from David. He found the part and e-mailed me back during a holiday weekend that you had it in stock. First thing Tuesday, I called him and ordered the part. It was overnighted to me, and my air conditioner was up and running by Wednesday afternoon. This is great customer service."
Jerry - Cape Coral, Florida
---
"Recently I discovered that I had lost the cap to my oil filler tube on my Winnebago. I contacted Winnebago and they told me I have would have to go to Ford to get a new one. At first, I got the same answer from Lichtsinn. But when I explained that I was traveling, was far from home, and would have great difficulty in locating a Ford dealership, David Straw (in the Parts Department) stepped up to the plate. He took it on himself to contact the local Ford dealer up there, got the part and shipped it out to my granddaughter's home. I picked it up yesterday and installed it today. This is why Lichtsinn RV is so popular with us Winnie owners. Only wish more dealers were this good!"
Jerry - Cape Coral, Florida
---
"We took delivery of our 2016 Nation 24J in May, 2015. Last week, May 9th, I returned to your dealership to resolve warranty items before our first year of ownership was up.

I could not have had a better experience! Your service department did a great job in addressing our warranty issues. Justin Overland, and the tech in the shop, performed at 100%. While I had a long list, some 12 to 14 issues, many were minor items that did not effect our ability to use the coach. Several, did require a fair amount of time to repair. The coach was in the shop all day Monday and two more hours on Tuesday.

The end results were better than I could have hoped for! During an inspection of the motor home, a caulked seal on the roof, was found to be defective and was repaired (I didn't know I had a problem). Justin expedited a "purchase order" with HWH and saved us $500+ on leveling jacks we had installed later in the week.

All and all, we will be back. See you down the road. Thanks!"
Dick and Shirley - Pahrump, Nevada
---
"There is only one No. 1 Winnebago/Itasca dealer: Lichtsinn Motors. Despite living over 600 miles from the dealership, we were able to purchase a '12 Winnebago Adventurer mostly via phone and email. Casey provided information we asked for, and did not pressure us at all. She took care of all the details before delivery, and kept us informed as the coach was being built. I was equally impressed with owner Ron Lichtsinn. He was definitely not a "desk jockey" and kept busy doing things most owners would consider beneath them. When we observed his work ethic, we knew we had selected the right dealership. Financing was a breeze, taking only a few minutes to sign a few papers. We can't say enough good stuff about Brad who led the pre-delivery inspection. He was awesome! Brad was patient with us, answering all our questions, and taking time to explain the inner workings of some of the mechanical and electrical "stuff" that interested me as an engineer. And he spoke highly of Winnebago/Itasca (that may seem normal, but it is rare that a service tech thinks and speaks as highly of a product as did Brad), another sign that we had chosen correctly. From initial contact to working with the Parts Dept., we found Lichtsinn to be as advertised: the No. 1 Winnebago/Itasca dealership. I highly recommend them."
Donald
---
"Our dealer was Lichtsinn RV. Winnebago does not do delivery. We really like Lichtsinn RV for a number of reasons and would purchase another unit from them.

We went back for a some warranty work. There was a leak around the hydraulic pump (leveling jacks) that I likely could have fixed but decided there could be a big downside if I stripped a connection while trying to tighten. While there the tech thought the jacks were making too much noise, the Lippert rep came over from the factory and concurred. 

There were no jacks in the parts stock so Winnebago took the out of the production line. Jacks were replaced the next day and we were on the road.

Lichtsinn RV treated us like family. Winnebago is a star. We are totally pleased."
Gordon and Janet on iRV2.com Forum
---
"Lichtsinn RV is about your only option. They are fine folks as others have said. We just picked up our new coach from them last week, and were able to have a very good walk through with the tech who was able to explain every little detail to us.

They did find a few minor problems during the PDI, and went out of their way to make sure that all was right before we left."

Chris McVetty on iRV2.com Forum
---
"Carol & I want to express our sincere appreciation for your going to bat for us with Winnebago on the furnace/pump compartment design issue on our 2015 Journey 40R. I know it would not have been favorably resolved without your personal intervention. When I was there to pick up our 40R, I said to a customer who had just purchased a new unit (I think a Navion) and doing orientation (I think with Brad), 'we have owned 8 Class A Motorhomes & Lichtsinn RV has provided by far the most user friendly service of any Dealer from whom we have purchased.'
Brad & Ben are incredible people persons who diligently pursue the goal of complete customer satisfaction. They are real professionals. You are fortunate to have them and they are privileged to work for an employer who is locked in to supporting their efforts to please customers.
Casey, Jason and Hannah all know that good service was a primary factor in our purchase of the first 2015 Journey 40R 'off the line' at Winnebago.
As customers, we really appreciate that cooperation between service department & supportive owner management.
It also confirms my research regarding Winnebago as the original and now the best manufacturer of Motorhomes in the industry."
Larry from Colorado
"I needed a part to repair my motorhome and Chris Anderson in your parts department when beyond the call of duty to help me. He didn't stop calling and searching until he found what I needed. Be proud to have people like Chris working for you. Thanks so much."
Don Schacher
---
"Recently as we were finishing a long trip thru the Rockies and plains we were in Iowa and discovered a water leak from the left wheel well area.

Since we were planning on going near Forest City, IA anyway I called Lichtsinn Motors. It was Friday afternoon. Tim the service manager there worked us in for first thing Monday AM, even though they were booked for two weeks ahead.

As I was checking the vehicle in, he asked if there were any other things we wanted checked since it was still under warranty. I gave him several minor items but told him they only mattered if he had time to get to them. The water leak was the most important.

They gave us a courtesy car, allowed us to stay there all weekend, and fixed everything on the list by noon Monday.

Thanks Lichtsinn!"
George & Lesley
2013 Winnebago ERA 70A
---
"I needed a replacement part for my Winnebago which my local dealer could not obtain. There were problems but Lichtsinn Motors came through with flying colors. I am very satisfied with their service, especially the efforts of Lonnie Fox, and am delighted that Winnebago partners with people and companies of this caliber."
Respectfully, Jack Moulton
---
"Wanted to tell you how much I appreciate the great customer service your Parts Department provides.  I do not buy to many things so not a big customer but I am always treated with friendly and helpful service.  We have very active Yahoo User Groups for the View-Navion and everyone is always complementary of Lichtsinn RV, whether is it Sales, Parts, or Service, you standout above the other dealers.  

Anyway, very nice dealing with the Parts Department today.  Dave took my order and made it a pleasant experience once again."

Gary
Fort Collins, CO
---
"I just wanted to take a minute to say how impressed I am with your operation and the service department in particular.
Understand that I go out of my way to have work done at your service department. The dealer that I bought my coach from is only 15 miles from my house, but I refuse to take my coach there anymore...so I drive my coach 120 miles to Lichtsinn to have it worked on. I consider it to be a minor inconvenience for the good service. Just wanted to let you know that I'm a very satisfied customer."
Bill from Rosemount, Minnesota
---
"David, once again you have impressed me with your tenacity to find answers to my somewhat bizarre questions.  I now carry your name and number with me in our motor home.  The next time a fellow traveler ask me, where do you think I can get a...I will honestly be able to give them the best possible source! Thanks again.
Tom - A Loyal RV Parts Customer
---
"Lonnie Fox in your RV parts department deserves a pat on the back for a job well done. I was having problems with my Winnebago and locally no one seemed to have any idea of what to do to even repair it including find the correct part. After a wrong part arrived, I did not make myself clear as to what I needed, Lonnie expedited the return and had the appropriate correct part drop shipped overnight so the repairs could be made."
Charles | Loyal Lichtsinn Motors Parts Customer
---