Stationary Automatic Satellite Options
There are great options for stationary automatic satellite DISH Network with clear views of the Southern sky! Call 641-585-3213 to order one of these satellites today!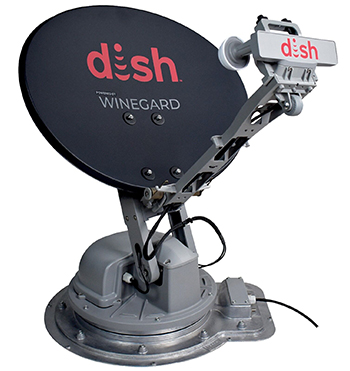 SK2DISH TRAV'LER DISH 
Designed to bring you everything that satellite television offers, TRAV'LER automatic multi-satellite antennas provide the same satellite TV viewing experience in your RV as your home! Watch separate programming on multiple TVs simultaneously! With most RVs equipped with more than 2 TVs, the TRAV'LER is perfect for families with different viewing needs. View all satellites at the same time for maximum programming. Never miss your favorite show again!
Compatible with:
Dish SD

Dish HD

Bell SD

Bell HD
Price - $2,407.09
(Satellite Dish Only)
Price Installed - $3,142.09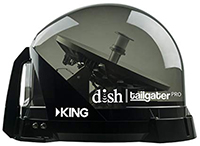 KING tailgater Pro
The KING tailgater Pro automatically locks on to broadcast satellites, allowing you to begin watching channels soon after setting it up.
It requires no external power cable, and a single 50' cable connection is all it takes to begin watching satellite programming. If you add a second receiver, the Tailgater Pro portable satellite antenna lets you watch different channels on separate televisions.
Includes a 25' coax cable and a 3' coax

Optional roof or ladder mounts available or use the convenient tripod stand
Compatible with:

Price - $379.00

DISH Wally Receiver


The DISH Wally, is receiver only. The Wally supports DISH's mobile antennas, the DISH Tailgater and the DISH Playmaker, allowing you to enjoy TV even when you're away from home. 
The Wally allows you to record one program at a time when a dedicated external hard drive (EHD) is connected to the receiver. 
Price - $84.95


Need Some Help Finding the Right Satellite for you?