Stationary Automatic Satellite Options
There are three great options for stationary automatic Dish network satellite when parking in wooded areas by allowing you up to 50' of mobility in placement!
Call 641-585-3213 to order one of these satellites today!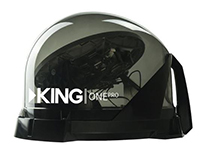 King One Pro Premium Satellite Antenna 

The King One Pro Premium Satellite TV Antenna 
Automatically configures for U.S. satellite service with no dip switches.

Includes 50' of coax cable with connectors pre-installed and a power inserter. 
Compatible with:
DirecTV (SD Only)

Dish

Dish HD/DS

Bell

Bell HD/SD TV
Sale Price - $549.00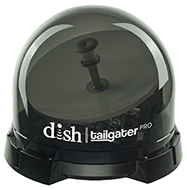 DISH Tailgater Pro 
Imagined and created by KING, the Tailgater defines affordable simplicity for satellite TV on the go.
The Tailgater Pro, specific for DISH service, is the original and most affordable receiver-controlled automatic portable satellite antenna.
Automatic satellite acquisition wherever you go with no separate remote control or power source required. Just connect the Tailgater Pro to your DISH receiver and in minutes you're watching your favorite satellite TV shows in crystal clear HDTV.
It even tells you if satellite signal is partially or completely blocked via on-screen diagnostics.
For reception of DISH Network SD and HD programming.
Sale Price - $379.00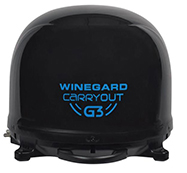 Winegard Carryout G3

The Carryout G3 receives DISH, DIRECTV, and Bell TV programming for the ultimate in provider versatility. The G3 supports multiple receivers so you can watch different programming from the same satellite on multiple TVs at once. Simple setup, ultra-small and compact. 
Includes a 25' coax cable and a 3' Coax

Optional roof or ladder mounts available or use the convenient tripod stand
Compatible with:
DirecTV (SD Only)

Dish

Dish HD

Bell
Sale Price - $599.00
Need Some Help Finding the Right Satellite for you?