Tire Accessories
--------------------------------------------------
TireMinder A1AS-6 Wireless Tire Pressure Monitoring System - $579.00
Part #TM22130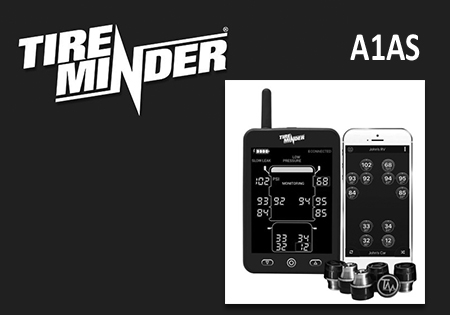 The Minder Research TireMinder Tire Pressure Monitoring System - 6 Sensors designed to monitor your vehicles tire pressure and temperature, offering both a visual and audible blow-out warning. The wireless tire transmitters screw onto the valve stems allowing you to easily monitor your tires. The digital monitor signals and sounds alarms for tire pressure loss or if tire temperature exceeds 167 degrees F. With this monitoring system you will never have to worry about having a tire blow-out while driving again.
Monitors Tire Pressure and Temperature

Large 5.5" Color Monitor Display

Monitors up to 22 Tires

Visual and Audible Pressure Alarms

PSI range between 

+/- 1 PSI accuracy from 0-199 PSI

Immediate alert if tire pressure is above 167 F degrees.

Monitor is Rechargeable with a Battery Indicator

Replaceable batteries for transmitters

TireMinder App Compatible

Easy to install and use

3 year warranty
Kit includes: (1) TireMinder A1AS Color Monitor, (6) Transmitters, (1) Signal Booster, (1) Micro USB Cable and DC Adapter, (6) Locking Nuts, (1) Locking Wrench with Valve Core Tool, (6) Extra O-Rings, (12) CR1632 batteries, (1) Mounting Bracket and (1) Carry-All Pouch.
--------------------------------------------------
Installed Price: A1AS-6 TPMS = $680.50
*Stem Pricing Not Included

Installed Price: with HiSpec Stems A1AS-6 TPMS = $938.50

Call 641-585-3213 to order TireMinder A1AS-6 or to make a Service Appointment to get it installed.