Lichtsinn RV Product Protection
Maintaining the appearance of your RV can be time consuming and hard work... certainly not why you invested in a recreational lifestyle! Originally designed for the aviation industry in partnership with Boeing, the Lichtsinn RV PROTECT Package provides comprehensive protection for your new investment to protect and minimize maintenance on your new RV.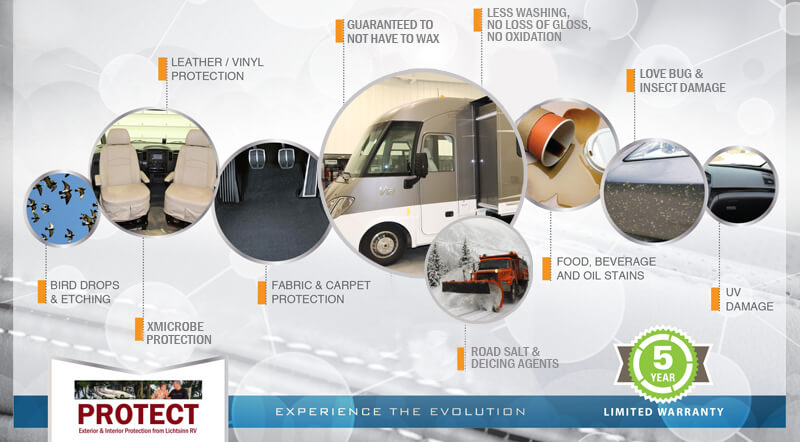 Exterior PROTECT
So how tough is it? The exterior PROTECT components have passed Boeing Materials Technology testing in Renton, Washington and withstood 1,400 hours of salt spray exposure and temperatures up to 450 degrees. The molecular strengthening of the gel coat and clear coat in RVs withstand a UV30 block to prevent high altitude paint fade... so think about how much more protective it is at ground level! It does not break down like automotive waxes, which then have to be reapplied.
The product is backed with a 5 year warranty with

no need

to

ever wax

your RV.
Daily maintenance is a breeze with love bugs, insects, and road spray not adhering to the gel coat or clear coat, and when they do, rinse down is simple and easy. Normal cleaning, not long afternoons of scrubbing and waxing, will easily and effectively maintain your RV interior and exterior appearance when PROTECT is applied.
Interior PROTECT
On the interior, it is applied to all fibrous areas of the vehicle, carpet, dash, leather, etc., and prevents accidental staining and fading!
X-Microbe technology is used on Boeing aircraft as an effective cleaner of almost all micro-organisms that can live in aircraft cabin interiors, in partnership with Dow Corning development.
Protects against water and oil-based spills.
Increases

tensile

strength

of the fabric to add years of life.
Fabric will clean easier, look better and last longer.
Will not alter fabric appearance or texture.
Vinyl and Leather PROTECT keeps vinyl and leather soft and supple.
Protects against fading and weather aging.
Unlike other products, PROTECT leaves no oily or greasy residue.
Leather will retain its natural luster and sheen.
X-Microbe technology eliminates odors, is safe for children, adults and pets.
Helps control mold and mildew in storage.
All products are registered with the EPA and is a certified green solution.
And... all of this is backed with an 85 year proven track record in the industry, and each PROTECT package comes with a 5-year warranty for all new RVs and preowned RVs with less than 35,000 miles. For preowned RVs, PROTECT offers a 3-year warranty for RVs with less than 75,000 miles, but more than 35,000 miles.
Contact us at 641-585-3213 for more information.