Winnebago Dealer serving Keokuk, IA
Welcome to Lichtsinn RV, the top Winnebago Dealer in North America located in Forest City, Iowa, the home of Winnebago Industries! Lichtsinn RV serves guests from Keokuk, Iowa and is your dealership of choice whether you are looking to buy a New or Used Winnebago motor home, service and repair a Winnebago or Itasca Motorhome, or in need of ordering Winnebago, Itasca, Winnebago Touring Coach or Workhorse Motor Home RV Parts. See what our guests have to say about their experience at Lichtsinn RV. 

As the closest dealer to Winnebago Industries (only 1 mile away) we are privileged to provide customers in Keokuk, IA and from all over North America with NEW Winnebago Motor Homes having NO DELIVERY MILES or stress on them!  This allows you to break in your New Winnebago RV the way chassis manufacturer recommends.  We are an award winning New and Used Winnebago Motorhome Dealer, in business for over 45 years.  Known for providing expert product knowledge and superior guest service to customers like you in Keokuk, IA as confirmed by our receipt of the Winnebago Flying W Customer Service Award each year for over 25 years.  Using our website you can view our New Winnebago Motorhomes, Used RVs or many other brand Motorhomes for Sale.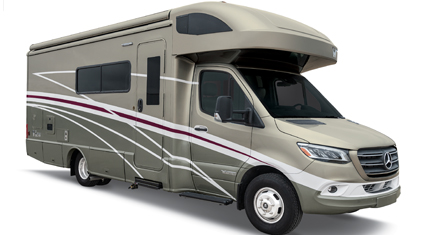 Lichtsinn RV provides quality Used RVs for the Keokuk, IA area

Lichtsinn RV is proud to provide quality Used Winnebago motorhomes and other RV brands for guests from Keokuk, IA area looking to purchase a used motor home. Our sales consultants provide exceptional guest service to each and every one of our guests.  When you walk into our Winnebago dealership you'll experience guest service that stands out from other RV dealerships.  We're confident you'll find the perfect used Winnebago Motorhome or other brand motor home at Lichtsinn RV.  Many of our Pre-Owned Motorhomes come with a Certified Preowned RV Warranty. We look forward to meeting and assisting guests from Keokuk, IA! See our Map of Sold Guests from throughout the Country. 
Get Directions to Lichtsinn RV
RV Service & Repair near Keokuk, Iowa
Lichtsinn RV is your premier choice to service your new or used Winnebago if you live in Iowa. We have over 40 years of experience in servicing motor homes and our RVDA certified technicians are highly skilled in servicing new and used Winnebago motor homes.  Customers from Keokuk, IA and around the country keep traveling back to our dealership for their Winnebago RV repairs as they receive professional treatment in a friendly atmosphere.  Lichtsinn RV's standard of service and repair is unprecedented!  See what our service guests have to say about their experience at Lichtsinn RV. 
Winnebago RV Parts near Keokuk, Iowa
When the time does come for you to order Winnebago RV parts, we offer Winnebago, Itasca, Winnebago Touring Coach and Workhorse parts at competitive discounts.  As the closest dealer to the Winnebago Factory in Forest City, Iowa we are afforded the opportunity to provide you with fair priced, same-day shipping on all in-stock parts from our warehouse and from Winnebago Industrie's warehouse.  Our resourceful team ships parts to Keokuk, IA and throughout the country and internationally.  We have the largest Winnebago Parts Department in the Country and our factory trained parts team is very knowledgeable in finding the correct part the first time.  

At LichtsinnRV.com we also have the only Winnebago Parts Price Look-Up Tool in the Country! PLUS, if you are a WIT Club member we offer a 10% discount on Winnebago parts!
Check out our reviews on Google and Facebook to find out what other guests have to say about their experiences at Lichtsinn RV.
Visit Us:
505 Highway 9 East
Forest City, Iowa 50436
Or fill out the information below and a sales representative will contact you as soon as possible during business hours.